Aaxon Laundry Systems Provides an Essential Service for All Customers During COVID-19
Press Release
•
updated: Mar 20, 2020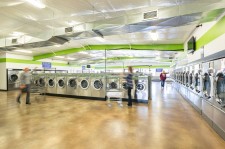 FORT LAUDERDALE, Fla., March 20, 2020 (Newswire.com) - ​​​​​​Aaxon Laundry Systems is a leading commercial laundry service provider serving laundromats and multi-housing laundry rooms that provide laundry amenities to residents of multi-unit housing, such as apartment buildings, condominiums, colleges, and hotels and motels. Aaxon serves the states of Florida, Georgia, North and South Carolina, and the Caribbean markets. Aaxon continues to take all precautions to ensure a safe, clean and environment for our customers and team members. As the Coin Laundry Association and Aaxon together push to exceed the highest health standards during this COVID-19 outbreak, all laundromats and laundry service providers remain critical to the basic needs and hygiene needs of the general public. Access to services is particularly important for laundromat customers who are often among low-income families with few alternatives to the neighborhood laundromat for clothes washing.
"We continue to have conversations with our customers and the consensus is that they need our services during this critical time," said Aaxon President/CEO Frank D'Annunzio. "Our facilities are safe, clean and have on-site staff to help ensure all protocols are followed."
Aaxon is committed to providing the cleanest, safest environment possible for its customers. The commercial-grade washers found in laundromats and multi-housing laundry rooms provide rigorous mechanical action which, combined with hot water and proper detergent use, effectively flush contaminants from clothing in a manner that far exceeds the capabilities of residential machines. Furthermore, commercial gas-fired dryers operate at higher temperatures sufficient to enhance the cleaning process.
In alignment with the Centers for Disease Control recommendations, their customers should continue to observe the best levels of cleanliness and hygiene possible, including regular clothes washing during the pandemic. Following suit with cities such as Miami, Miami Beach, San Francisco, San Jose, Los Angeles and the state of Pennsylvania where laundromats and laundry service providers are deemed essential businesses by their health departments, Aaxon is pushing for the same designations to keep these crucial services available for all their customers.
Contact Aaxon Laundry Systems:
A: 6100 N. Powerline Rd. Ft. Lauderdale, FL 33309
E: press@aaxon.com
About Aaxon Laundry Systems
Aaxon Laundry Systems is one of the nation's innovators in laundromat design and development, multi-housing laundry room solutions and on-premise laundry equipment applications serving the states of Florida, Georgia, North and South Carolina, and the Caribbean markets for over 40 years.
Sources
Miami- Dade Emergency Order- Essential retail and commercial businesses, like laundromats and laundry service providers to remain open- Local 10
Laundromats Should Remain Open During COVID-19 Outbreak Providing Essential Service – Planet Laundry
The San Francisco Bay Area coronavirus 'shelter in place' order works – Los Angeles Times
Source: Aaxon Laundry Systems
Tags