A7FL® Launches 2020 Back in Motion Tournament Presented by Salus®
First Football League to Return Airs LIVE July 26 on ELEVEN Sports/FTF
Press Release
-
updated: Jul 21, 2020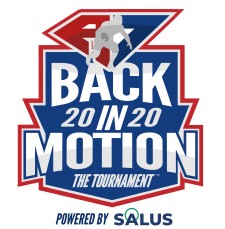 MONTCLAIR, N.J., July 21, 2020 (Newswire.com) - The American 7s Football League® (A7FL), pioneering no-helmets, no-pads, full-contact tackle football, today announced its 2020 season will launch on July 26 with The A7FL 2020 Back in Motion Tournament Presented by Salus. The league's 2020 season consists of a four-team four-week tournament from Yogi Berra Stadium in Montclair, New Jersey, to be broadcast LIVE by ELEVEN Sports and For the Fans (FTF) Network, with additional live digital distribution via Facebook Watch and Twitch.
"We are incredibly proud to be the first American football league back in action," said A7FL CEO Sener Korkusuz. "Our players are ready to showcase their talents and we're so happy to be able to give fans the football they love -- especially after such an extended live sports drought."
A7FL 2020 Back In Motion: The Tournament Presented by Salus features four veteran New Jersey teams -- the Hawks, B.I.C., Renegades, and Paterson U --  facing off at Montclair New Jersey's Yogi Berra Stadium. The season will feature back-to-back games on three consecutive Sundays beginning July 26 and culminating with a championship game on Aug. 16. In collaboration with the New Jersey Jackals and the All American Baseball Challenge, each week features a double header of MiLB baseball followed by two games of A7FL football.
The weekly schedule includes (all games ET):
Sunday, July 26: 6:30 p.m., The U vs Renegades, 9 p.m., BIC vs Hawks
Sunday, Aug. 2: 6:30 p.m., NJ Hawks vs NJ BIC, 9 p.m., The U vs Renegades
Sunday, Aug. 9: 6:30 p.m., BIC vs Renegades, 9 p.m., The U vs Hawks
Sunday, Aug. 16: 8 p.m., CHAMPIONSHIP #1 vs #2 
The 2020 A7FL tournament is presented by Salus, a mobile solution designed to safely bring back mass-gathering sports, entertainment, the workplace, and education. At the heart of the Salus platform are the Salus Mobile Customer, Employee, Tester, and Monitor apps that stores and timestamps on-the-spot test results and ensures only COVID-19-negative fans, athletes and staff are able to enter an arena, stadium or other venue via a time-sensitive QR access code. "We're thrilled that the A7FL has utilized Salus to help be the first football league back in action during the current pandemic," said Ric Cavieres, President of Salus' parent company OZ, a digital innovation company. "This is just one application of our revolutionary technology but as a football fan myself, it's great to be able to help safely bring back live sports."
This seasons' LIVE broadcasts extend a relationship with Eleven Sports Networks / For the Fans that began with A7FL's 2017 Championship and continued with this year's weekly series A7FL In Motion. ELEVEN SPORTS is available in the U.S. via DirecTV (623), Fios (597), and U-verse (1665). FTF can be seen in more than 60 million households in the U.S. and Canada with over another 10 million+ homes worldwide.
"ELEVEN SPORTS / For The Fans (FTF) is excited to be the home for 2020's return of American Football," said ELEVEN SPORTS Managing Director Anthony Bailey. "The A7FL 2020 Back in Motion Tournament is a true celebration of the return of sports in the U.S. and ELEVEN SPORTS / FTF is looking forward to showcasing the exciting action that the A7FL offers."
About A7FL: 
The American 7s Football League is reinventing football. For the past five seasons, A7FL teams have competed 7-on-7 without helmets or hard-shell pads – significantly reducing concussions and other repetitive head impacts – while demonstrating amazing athleticism and creating countless viral video highlights. Founded in 2014 by CEO Sener Korkusuz and President Ryan DePaul, the league has grown to 20 teams and over 500K social media followers and recently added UFC® co-founder David Isaacs to its ranks. In addition to Eleven Sports, the A7FL can be seen on Facebook Watch and Twitch. For more information, go to www.a7fl.com.
About Salus:
The Salus solution is helping bring back sports, entertainment, the workplace, and education by creating COVID-19-free "biospheres." The Salus solution comprises four mobile apps used by the stakeholders and personas involved in various mass-gathering scenarios; the Salus Access, Employee, Test, and Monitor apps. These apps coordinate rapid COVID-19 testing and the association of those results with the Salus Access and Employee apps, generate a time-sensitive and stamped access QR code, and selfie, for users who test negative, allowing them to access defined venue(s). So creating the Salus, COVID-19-free "biosphere(s)."
Media Contact:
​Sener Korkusuz
Phone: 561-877-0992
Email: info@a7fl.com
Source: A7FL
Share:
---
Categories: Football
Tags: a7fl, eleven sports, football, salus, sports, yogi berra stadium
---