2019 A7FL Championship: PA Immortalz vs. Paterson U - Sunday, July 14, at 2 p.m. ET
Press Release
•
updated: Jul 12, 2019
Watch the 2019 A7FL Championship LIVE on Twitch.tv/A7FL July 14 at 2 p.m. ET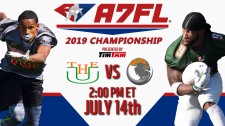 BOCA RATON, Fla., July 12, 2019 (Newswire.com) - One of sports' fastest-growing and most exciting new leagues, the American 7s Football League (A7FL®), will stream its 2019 Championship Game LIVE on Twitch (www.twitch.tv/A7FL) on Sunday, July 14, at 2 p.m. ET.
The first no helmets no pads full-contact tackle football league, the A7FL, presented by TimTam.tech, boasts 16 teams and its 5th annual championship will pit perennial league powerhouse New Jersey's Paterson U versus the upstart Pennsylvania Immortalz. In addition to livestreaming on Twitch, the 2019 A7FL Championship will be available on DirecTV, Fios and U-verse with multiple encore presentations on ELEVEN Sports Network® beginning Monday, July 15, at 9 p.m. ET.
"This year's championship features the two best teams in the league," said Ryan DePaul, A7FL co-founder and league commissioner. "If you like great football, you won't want to miss what's sure to be a close, hard-fought game. And with these competitive teams and the A7FL championship on the line, anything can happen."
The A7FL has pioneered a completely new football format - 7-on-7 without helmets or hard-shell pads - that provides the toughness and excitement that fans love while significantly reducing concussions and other repetitive head impacts. Not only has the league proven to be safer for players, but it's also a hit with fans. In just the last two seasons, the league has grown from 16 to 22 teams and to over 500,000 social media followers and 100 million video views, with live games distributed both online (including livestreaming partner Twitch as well as Facebook Watch) and television. Through ELEVEN Sports Network, the 2019 A7FL Championship will be accessible to over 30 million U.S. television homes with DirecTV, U-verse and Fios.
When asked why the A7FL has succeeded while other startup professional football leagues have failed, A7FL co-founder and CEO Sener Korkusuz commented, "This league not only presents a completely new and much safer football product, but it's built from the ground up. Our players are outstanding athletes - many of whom have other college and professional experience - who crave full-contact competition. Plus, our fans not only want to see big hits and highlight-reel excitement, but they're passionate about supporting their local superstars."
For more information, visit www.a7fl.com or email info@a7fl.com.
Source: A7FL
Related Media
Related Files
Additional Links