A Visually Stunning VR God Game for PC, XBOX®, PlayStation® and Nintendo Switch® Launches on Kickstarter
Press Release
•
updated: Apr 8, 2019
Currently, the team is requesting people's support in a Kickstarter® campaign. A Kickstarter® pledge entitles them to an early copy with various rewards and supports the project financially.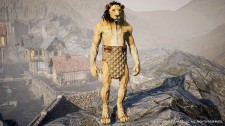 HYATTSVILLE, Md., April 8, 2019 (Newswire.com) - Roosevelt Games LLC is proud to present GODS, a multiplayer RTS/RPG god game for PC, XBOX One®, PS4® and Nintendo Switch®. It supports Oculus Rift®, HTC Vive® and PSVR®. The company will release GODS in the third quarter of 2020.
GODS Kickstarter®​: https://rooseveltgames.com/kickstarter-gods
In GODS, the players can build a civilization, fight enemy gods, raise powerful creatures and take part in multiplayer games (e.g., death matches, two vs. two or creature battle tournaments). Also, the players can possess an actor to complete his/her quests from a third-person RPG-style game-play.
Roosevelt Purification is currently leading this project. He is the CEO of Roosevelt Games LLC and a senior software engineer at NASA. The team wishes to bring a high-quality god game to VR for the first time
According to the CEO, "It's been a while since the fans had a chance to play a god game in console devices or with VR support. We added unique elements, stories and various VR specific experiences. Any additional funds will support the rest of the game development, hardware, testing, marketing and miscellaneous fees."
GODS Features:
Test Your Might -- Battle against 10 enemy gods.
A Rich, Captivating Narrative -- Story mode takes players through at least three islands.
A Diverse Experience -- Each land features at least 20 characters and each character features three-five quests or challenges.
More Role-Playing -- Players can possess any actor in the game and play from a third-person view.
Ultimate Diversity -- There are Halflings, Wizards, Dwarves, Elves, Orcs, Egyptians, Vikings, Greeks and the Romans. Their physical features, behavior and capabilities are random and result from a combination of their parents.
Absolute Wonders -- Mighty Lion, Tiger, Wolf, Dragon, Elephant and the Cyclops creatures are confirmed.
Next Steps
The public can see the game-play videos, screen-shots and get up-to-date news on YouTube or the GODS Facebook page.
With just 20 days left in this campaign, the support from the public is urgently needed. Consider getting involved and help "GODS" become the best god game possible.
https://rooseveltgames.com/kickstarter-gods
Media Contact:​
Roosevelt Purification
​support@rooseveltgames.com
301-648-1746
Source: Roosevelt Games LLC
Related Media
Additional Links