A NASA Engineer's New Book Could Change Someone's Life
5 Pillars of Success by a NASA Engineer shows how people can turn their life around, become more success conscious and achieve their dreams.
Press Release
-
updated: Nov 21, 2017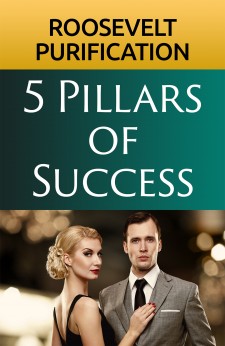 MARYLAND, USA, November 21, 2017 (Newswire.com) - Roosevelt Purification believes that people feel paralyzed when life presents them with unforeseen circumstances, or when they lack the knowledge or resources to go after their dreams.
5 Pillars of Success is a self-help book that focuses on five critical areas of life. They are the conscious mind, ability to take massive action, ability to double one's productivity, ability to manage goals and the ability to take care of one's health. In each area, the author shares his knowledge and wisdom from his personal experience and also the knowledge he acquired after researching the most successful people around him. Each of his findings aims to help cultivate a bright future and help people become more successful in all areas of their life.
"I wrote this book to serve two major purposes. First, I want to show everyone how easy it can be to become more successful. Next, I want to give this book to my children and grandchildren someday and tell them, I wish I read something like this when I was much younger," said Roosevelt Purification, the author of 5 Pillars of Success and a software engineer at NASA Goddard at Greenbelt, Maryland.
5 Pillars of Success is available on Amazon as a paperback, Kindle eBook and as an Audiobook. The URL is: http://amzn.to/2BaDAnC
About Roosevelt Purification
Roosevelt Purification is a Sr. Software Engineer from Maryland, USA. He has worked for private companies and the government organizations for about ten years. They include but not limited to NASA, Department of Education and AGORA. During his career, Roosevelt Purification has helped numerous employees and always focused on developing a successful team to maximize the success of projects or the company goals.
Roosevelt Purification is reachable at rp@roosevelt.pro, Twitter (@roosevelt) or his blog https://roosevelt.pro. 
A review copy of 5 Pillars of Success is available upon request.
Source: Roosevelt Purification
Share:
---
Categories: Books, General Interest, Personal Growth
Tags: books on leadership, books on leadership and motivation, deepak chopra, goal management, how to be a genius, how to get rich, how to make more money, how to talk to people, how to write a resume, people skills, the 7 habits of highly effective people, tim ferriss
---