A Summer Survival Guide From the Celebrity Lifestyle Expert Valerie Greenberg
Press Release
•
updated: Jun 27, 2018
Red Carpet Reporter and Celebrity Lifestyle Expert Visits TipsOnTV and Provides Timely Tips for the Summer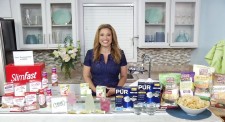 ATLANTA, June 27, 2018 (Newswire.com) - It is the middle of the summer, but people may feel that they are starting to run out of steam. With weeks left of summer vacation, what is one to do? Celebrity lifestyle expert and red carpet host Valerie Greenberg gives some timely tips for making the most of summer as she shares some of her keys to summer survival.
A SPECIAL RECOMMENDATION FOR SUMMER SURVIVAL
Staying hydrated is one of the keys to being healthy and happy but, for lots of people, drinking enough water every day is a challenge. Made with only simple ingredients, True Lemon and True Lime provide refreshing, tasty options to flavor water and help people drink more water, deliciously. Only 10 calories a stick packet, they are perfect for on-the-go busy lifestyles. True lemonades and limeades are made with only simple and clean, non-GMO ingredients including citrus oils and juices from citrus fruits. They contain no artificial sweeteners, flavorings or preservatives so one can feel great about quenching their thirst and sharing with family - and they come in nine delicious flavors. For more information, visit www.TrueLemon.com.
USING THE CLEANEST WATER POSSIBLE THIS SUMMER
One way to use clean water this summer is with the PUR Advanced Faucet Filtration System. It is certified to reduce 99 percent of lead and over 70 other contaminants - more than any other brand. Water takes a long journey through an aging infrastructure, so the water people drink at home may contain unwanted contaminants including lead and pesticides. This is a bit alarming considering the many ways water is used, from washing our fruits and veggies to making soups and smoothies, to brewing coffee and tea and to our pets. The PUR Advanced Faucet Filtration System is easy to install, no tools are required and starts around $35. It is the superior solution for convenient, on-demand filtered water. For more information, visit www.PUR.com.
SUGGESTIONS FOR BUSY FAMILIES
Boulder Canyon Potato Chips are a favorite snack option for summer. They are made with clean food ingredients and cooked in unique, better-for-you oils like avocado, rice bran and coconut oils. They are cooked in small-batch kettles so they have a really hearty crunch and they are gluten-free, non-GMO and contain no trans fat. The best thing about these chips is the incredible flavor varieties, including two of the newest flavors, Buffalo Ranch and Sweet Chipotle, both of which are made with rice bran oil. They are delicious. For more information, visit www.BoulderCanyon.com.
A SURVIVAL TIP ONE MIGHT NOT THINK OF
Bring on the backyard BBQs because embracing summer fun has never been easier with the simple, easy-to-follow SlimFast Plan. For over 40 years, SlimFast has been helping millions of Americans lose weight and keep it off. It allows people to enjoy the foods they love. Just replace any two meals with SlimFast shakes, bars or cookies, enjoy a favorite summer meal and three 100-calorie snacks in between. It is as easy as 1-2-3! This convenient seven-day starter kit has everything one needs for the first week. For people who are following the plan and have questions, they can get exclusive access to the Registered Dietician and SlimFast Plan Consultant by texting "Summertime" to 44222. For more information, visit www.SlimFast.com.
Contact:
tipsontv@gmail.com
www.tipsontv.com
https://www.youtube.com/watch?v=XsV_97e2IcI
Source: TipsOnTV
Related Media