A Recent Study From IT Professionals Reveals Why Enterprise Data is More Difficult to Encrypt Than Cell Phone Data
Press Release
•
updated: Apr 25, 2017
Datrium conducted a recent study revealing why enterprise IT professionals believe it's so much more difficult to encrypt sensitive enterprise data than personal cell phone data—even with the existence of sophisticated encryption technologies. Datrium summarizes their view on the difficulty, and has provided the data security industry's first end-to-end encryption technology.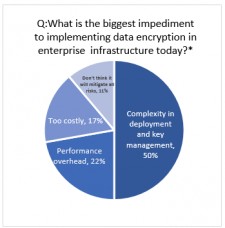 Sunnyvale, CA, April 25, 2017 (Newswire.com) - Datrium announces today why it's more difficult to encrypt sensitive data in the enterprise than personal cell phone data. In a recent study, conducted by Datrium with over 62 IT professionals, the answers were revealing, though not surprising.
50% of those surveyed stated that deployment and key management complexity is the biggest impediment to implementing data encryption within their enterprise's infrastructure. Not trivially, 22% felt that encryption interferes with their critical workloads and causes performance bottlenecks, while another 17% felt current solutions were too expensive to deploy. 11% stated that encryption doesn't help mitigate all their risks. These findings show that there is a gap, and resulting security threat, beyond what current data encryption solutions can address today.
The difficulty with enterprise data encryption
Data encryption providers have a mish-mash of sub-optimal options which confuse customers and leave enterprise data at-risk. They too often force IT organizations to jump through hoops, deterring the use of more robust and sophisticated encryption technology. In fact, most data security solutions encrypt at-rest data only, are costly, rigid and require separate key management systems.
Some software-based approaches confined to storage array controllers create centralized performance bottlenecks and still support at-rest only data security. While hypervisor-based approaches provide better protection, including in-flight encryption, the solutions become unaffordable by eliminating all data efficiencies. Up to now, encryption solutions from host-to-storage lacked data reduction and suffered intolerable economic trade-offs, forcing enterprises to settle for little more than 'check-box data security' with at-rest encryption from arrays or hyperconverged systems.
New end-to-end encryption technology to the rescue
When asked, over 80% of the IT Professionals Datrium queried believe that their biggest impediment to enterprise-worthy encryption is simplicity. In priority order, respondents desired the simplicity to turn encryption on/off as needed, no hardware dependencies, and built-in-key management systems. Equally importantly, 20% believe that expanding beyond at-rest encryption would help to mitigate their data security challenges.
Datrium addresses this gap and resulting threat with its new end-to-end, blanket encryption solution that encrypts data in-use on the host, in-flight across the network, as well as at-rest. Blanket encryption also scales with hosts, and leverages purpose-built silicon for data security right in host CPUs so performance concerns virtually disappear. End-to-end encryption solves a real problem in enterprise data security today and customers/prospects are voting for it hands down.
*62 IT Professionals across various industries in the U.S., conducted by Datrium
About:
Datrium is the leader in Open Convergence for private clouds. Datrium converges storage and compute in a radical new way—modeled on public cloud IaaS versus traditional converged infrastructure or hyperconvergence for vastly simpler performance and predictability. For more information, visit www.Datrium.com.
Datrium and the Datrium logo are trademarks of Datrium, Inc. All other trademarks are the property of their respective owners.
Press Contacts
Media Contact | April Burghardt | +1 (646) 246-0484 | april@datrium.com
Source: Datrium, Inc.
Related Media