A Global Marketplace for Tutoring Preply Announces the Details of a US$1,3 Million Deal
International private tutoring platform Preply (Techstars'15) from Ukraine raises US$1,3 million in a Series Seed round from European angel investors as well as venture funds, for further international expansion.
Press Release
-
Jun 9, 2016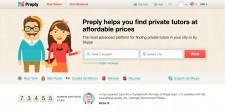 Kiev, Ukraine, June 9, 2016 (Newswire.com) - ​Global private tutoring platform Preply (Techstars'15), a service that helps people find online and local tutors of foreign languages, science, humanities, and various hobbies, has raised US$1,3 million in a Series Seed round led by angel investors Mariusz Gralewski (DocPlanner, Poland), Przemysław Gacek (Grupa Pracuj, Poland), Arthur Kosten (Booking.com, 2003-2012), and Hedgehog Fund (Poland) with the participation of international venture companies RTAVentures VC, Xevin Investments (Poland), Digital Future (Ukraine), SMRK (Ukraine), Techstars (USA/Germany) and other angel investors.  
Kirill Bigai, Co-Founder & CEO:
"Everybody who supports Preply in its mission to make education affordable for all people is investing in a better world. I appreciate our new partners as well as the Preply team and community. This year's deal proves our reputation for excellence and innovation in the education sector."
Since 2015, edtech startup Preply has transitioned from the accelerator program Techstars Berlin, increasing the core team fivefold and revenues tenfold. This attracted high-profile angel investors and VC's who initiated the seed funding. Funding will support the long-term development of Preply products for private teachers, and market reach growth in addition to fueling further international expansion. In order to accomplish this goal, Preply opens new vacancies.
Mariusz Gralewski, Founder & CEO at DocPlanner.com:
"The market of private tutoring is huge and still "not taken" globally. I was observing the development of Preply for almost a year and noticed their great traction. I truly believe that this company has the right entrepreneurial team to win this market globally."
Kyiv-based Preply is an educational platform for finding online and local tutors, and for providing services in the educational sector for teachers from all over the world. Preply was created in April 2013 and operates in five markets: Poland, Ukraine, Russia, Mexico, Brazil and is about to launch in Germany, UK, and Spain. Early on, Preply was personally funded by angel investor Semyon Dukach (Techstars Boston), and it is one of the Techstars Berlin'15 alumni cohort that raised a Seed Round.
25 000 Preply tutors offer their services to more than 70 000 students: 27 world languages classes, 13 school subjects lessons, as well as acting, music, and art lessons. 10 000 hours of classes are held each month with the help of Preply.com.
Przemysław Gacek, CEO at Grupa Pracuj:
"Tutoring services is a perfect and untapped global marketplace, as it clearly captures value for both teachers and students. Kirill Bigai and his Preply management team are very focused on making their platform simple in use and rich in opportunities, which combined with proper execution gives them a great chance to succeed."
Arthur Kosten, CMO at Booking.com (2003-2012)
"In a world of rapid change, continuous education is very important. Private tutoring is a great way to learn new skills, but it's a very fragmented market. Finding a tutor, booking and scheduling tutoring is very hard. Preply solves a lot of those problems. With limited resources the Preply team has built a great product and proved they could get traction in a lot of countries. I'm very excited to partner with them to take Preply to the next level."
Jens Lapinski, Managing Director at Techstars Berlin:
"Preply ist super."
Oleksii Vitchenko, CEO at Digital Future:
"Preply dramatically changes the teaching and learning process all around the globe. We are very impressed by the fact that Preply is a global project that covers 5 international markets. This was the key reason for us to join the round."
Investors of Series Seed round:
Mariusz Gralewski (DocPlanner), Angel Investor, Poland
Przemysław Gacek (Grupa Pracuj), Angel Investor, Poland
Arthur Kosten, (Booking.com, 2003-2012), Angel Investor, Netherlands
Hedgehog Fund, Poland
RTAVentures VC, Poland
Xevin Investments, Poland
Digital Future, Ukraine
SMRK, Ukraine
Techstars, USA/Germany
For further information, please visit our website or contact us directly: team@preply.com
Source: Preply
---
Categories: Investments, Media and News, Education
Tags: investments, online education, startup, tutoring
---