A Generation of Tennesseans Mourns Loss of Talley
Press Release
-
updated: Jul 13, 2019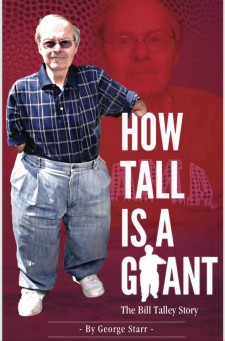 CLEVELAND, Tenn., July 13, 2019 (Newswire.com) - Check Into Cash Founder Allan Jones and Tennesseans mourn the loss of William "Bill" Talley. A legendary coaching legend beloved in all of Tennessee, Talley passed away while in a hospital in Odessa, Texas, around 11:30 p.m. on Tuesday, according to his son, Bryant Talley. A former Cleveland High School (CHS) freshman football and baseball coach who once coached Jones, Talley led the CHS Blue Raiders to overwhelming success, losing only two games during his tenure there.
Born with both arms stopping at the elbow and right leg stopping below the knee, Talley stood 4 foot 10 inches but was a giant of a man to those who knew him, hence, the title of a 2015 biography of Talley, How Tall Is a Giant? Penned by longtime friend and writer George Starr, the book was sponsored by the Allan Jones Foundation. At the book's release event, more than 500 adoring fans greeted Talley to purchase an autographed copy of the book.
"He is the hardest-working coach I know," declared local businessman Allan Jones, a 1972 CHS graduate who played for Talley. "We didn't know what losing was thanks to him. One time, he took our freshman team to Madisonville and while we were warming up, we noticed how much bigger than us the Madisonville team was. Talley came into the locker room and told us there had been a mistake and we were actually playing Madisonville's JV (junior varsity) team, which had sophomores, juniors and some seniors on it. He told us he was just going to put us back on the bus and go home, but he felt like we could beat them, and so we went out and did."
Such stories of Talley can be found from every person he coached, and many of his athletes have gone on to be highly successful in life and business as a result of his efforts. And his coaching prowess wasn't confined to high school students.
After enjoying success as a teacher and high school coach, Talley joined the staff of longtime friends and coaches Steve Sloan and Rex Dockery at Texas Tech University. When Sloan left Texas Tech for the head football coaching job at The University of Mississippi, Talley returned to coaching high school football in Texas, where he remained as a teacher, athletic director and coach before retiring.
While he spent decades away from Cleveland, Tennessee, he still holds a special place in the hearts of all he touched. In honor of his legacy in Tennessee, a Celebration of Life memorial service will be held in Cleveland and will be announced at a later date.  
Source: Check Into Cash
Share:
---
Tags: Bill Talley, Football, Obituary
---