A Car Fridge is the Best Accessory for All Australian Drivers - Not Just 4WDers
Press Release
•
updated: Jan 31, 2018
There is nothing like a cold drink on a searing hot day. It's not only refreshing to have one on hand - it can be downright dangerous not to.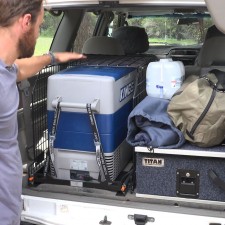 SYDNEY, January 31, 2018 (Newswire.com) - It seems Australians are never too far away from their car, and that's why a car fridge is probably one of the most useful accessories you can fit into your vehicle.
For years 4WDers have known the convenience of installing an Adventure Kings fridge in their 4×4, but did you know that you can install a 12V fridge is almost any car? Even one that never leaves the city.
You'll use your car fridge for keeping drinks and halftime oranges cold at kids sporting events, for safely storing your lunch away from sticky-fingered colleagues, and even as a beer fridge when friends and family come to stay.
You might be thinking that a few bags of ice and a cooler has served you well enough all these years, but consider that once you fill your typical icebox with a bag or two of ice, there is barely any room left for drinks!
With a Kings car fridge, you not only save on the cost of bags of ice but you can fill the entire refrigerated compartment with drinks or food and save precious space in what is likely an already jam-packed car on your next road trip.
You also won't need to worry about your ice melting with a car fridge, Adventure Kings car fridge is also a freezer.
The first thing you need to consider when choosing a car fridge is where in your car you will be putting it. If you own an SUV or station wagon, the obvious place to install your Adventure Kings car fridge is right at the back of the cargo area where it is easily accessible.
For a sedan, depending on the complexity of your installation you might place it securely in the cabin, or run a power cable to the boot. Remember that the temperature in your car boot will likely be higher than in the air-conditioned cabin, so the lowest temperature your car fridge can reach will be impacted.
Once you have decided on the perfect place for your car fridge you can look at the various sizes available and decide what best fits your needs. The Adventure Kings 80L fridge/freezer fits a massive 111 cans and is perfect for larger cars and SUVs, while the Kings 60L car fridge is more suitable for smaller cars like hatchbacks and sedans.
Installing a car fridge can be as easy or complex as you want it to be. If you just want a car fridge that you can put in and take out of your car between road trips with ease, the process is extremely straightforward.
Simply find a secure location in your vehicle for your car fridge and plug the 12V (DC to DC plug) into a cigarette lighter style socket in your vehicle. Many modern cars even have these sockets installed where they are accessible from the back seats or in the rear cargo area for exactly this kind of use.
Your drinks will stay cold the whole way to your destination, and if your destination has 240V power (like in your home) you can switch the cables on your Kings car fridge and plug it in to keep it cold without needing to transfer food and drinks into another fridge. If you are going to leave your car fridge in your car, just remember to turn it off when you reach your destination to preserve the charge in your car battery.
If you live or work on the road, or often head bush for extended camping trips it's possible to install a 12V charging system so that you never have to turn your car fridge off.
For this, you will need one or more AGM deep cycle batteries and a DC to DC battery charger that will charge all your batteries from your car's alternator while you drive. These auxiliary batteries will be what powers your car fridge, leaving your primary battery fully charged to ensure your car starts once it's time to leave.
A good DC to DC charger like the CTEK D250SA will also allow you to charge your batteries via solar. If you have a quality solar panel or solar blanket and plenty of sunshine you can stay where you are with your fridge icy cold indefinitely without having to run your car engine to help top up your battery bank.
If you're serious enough about installing a 12V and solar charging system so that your car fridge can run 24/7, you should also consider some accessories such as a fridge slide for easy access, and a fridge cage to protect your fridge from your other loose cargo.
Next time you're looking at buying an icebox or planning a road trip, consider if a car fridge is right for you. With the incredible quality and value for money of the Adventure Kings fridge/freezer range, a car fridge is within reach of all car owners – not just 4WDers.
Source: 4WD Supacentre
Related Media
Related Files
Additional Links