5th Element Teams With Sevenly and John Krasinski's Some Good News to Rally for $2 Million in COVID Relief Donations by Year-End
Press Release
•
updated: Dec 3, 2020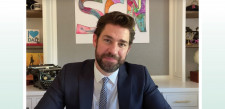 SEATTLE, December 3, 2020 (Newswire.com) - Some Good News ("SGN"), an online news show created by actor and filmmaker John Krasinski and broadcast from his home office, started off as a delightfully "DIY" way to find and celebrate positive stories in a difficult time. Fueled by an audience dedicated to watching good news as well as making good things happen, the SGN community is on pace to give away $2 million in donations through an SGN Store partnership with Sevenly.org, coordinated by 5th Element.
SGN has become a global movement with nearly 6 million followers, 155 million program views and worldwide impressions of almost 1.2 billion. In May of this year, Krasinski announced the launch of the Some Good Merch online store, hosted by cause e-tailer Sevenly.
SGN Store proprietors pledged 100% of proceeds to benefit a host of good causes helping with COVID relief, including World Central Kitchen, Direct Relief, Boys and Girls Clubs of America, Trauma Free World and the NAACP scholarship fund. Krasinski also announced a partnership with The Starbucks Foundation, which agreed to match the first $1 million in proceeds from SGN merch sales to provide even more impact for communities in need.
The Some Good Merch collection has featured more than 50 items designed in collaboration with the SGN community. At checkout, customers pick the charity they want to support. As of Giving Tuesday, Some Good Merch sales topped $1.2 million of donations made through The SGN Fund, a 501(c)(3) account administered by Legacy Global Foundation.
The Some Good News social media platform has offered a steady stream of positive and inspiring stories from around the world, including stories resulting from the impact of these donations.
"Throughout this SGN experience, I've been blown away by all the stories of good happening all around us and the ways people are supporting each other and their communities. Launching the Some Good Merch store is another way to help our audiences give back to non-profits helping people in need," Krasinski said. "The Starbucks Foundation's commitment to match $1 million makes this good news great news."
Beginning on Giving Tuesday and through the end of the year, the SGN Store is offering an extra incentive to "get (or give) a gift that gives." Every dollar spent on SGN items will go to the charity that customers select, so a $20 coffee mug, for example, results in a $20 donation to the cause selected.
"Combining SGN's spotlight on the power of the human spirit to do good during tough times and The Starbucks Foundation's mission to strengthen humanity, we can together help make 'some good news' happen for a lot of people this holiday season," said Jim Van Eerden, one of the SGN match program's architects and CEO of 5th Element Group.
Learn more about:
Source: 5th Element Group
Related Media