5th Element Group Sponsors Women of Change Award Honoring Niyanta Spelman of Rainforest Partnership
Press Release
•
updated: Sep 20, 2019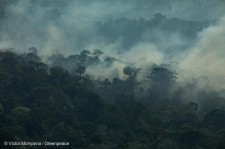 NEW YORK, September 20, 2019 (Newswire.com) - ​​​​​In the midst of recent worldwide media about the Amazonian fires, few leaders have stepped up more tirelessly to educate and help than Niyanta Spelman, CEO of Rainforest Partnership. For this reason, Spelman, who was recently featured on BBC worldwide, was honored with The Women Of Change® Award at the Family Office Impact Summit, hosted by 5th Element Group PBC in the Delegates Dining Room at the United Nations on September 5.
The Women Of Change Award winners are selected by The SDG5 Global Alliance (www.sdg5.global), which is an omniwin movement lifting the work of a wide range of leaders and causes pursuing gender equality across sectors, launched by 5th Element Group PBC. The award itself is the Women of Change® silver collector's coin, featuring Rani of Jhansi, an iconic woman in the history of India, where Spelman spent her formative years.
For Spelman, preserving the rainforest is both about environmental conservation as well as the empowerment of the indigenous communities of these forests, who currently face marginalization in a globalized economy.
Rainforest Partnership builds trust relationships with these communities and creates alternative economic opportunities that are tailored to their specific interests, abilities and local rainforest resources. In this way, Niyanta and Rainforest Partnership are equipping and empowering women of the rainforest -- a beautiful depiction of the quest for gender equality represented by UN Sustainable Development Goal #5, which advocates for the empowerment of women and girls.
"Niyanta has a vision that saving the rainforest was not just about planting trees but about education in commerce that supports the indigenous communities of the Amazon," said Elissa Fisher-Harris, Chief Impact Officer for 5th Element. "We're truly honored to be an omniwin activation partner for Niyanta and Rainforest Partnership."
Spelman's boots-on-the-ground work, bringing alternative methods of female-centric commerce, elevates the lives of countless indigenous women and the strength of tribal communities overall. She has become a leading example of the impact one person can make in showing the connection between our rainforests and its connection to humanity's future well-being -- and how we can take action, one person and one community at a time.
"Women have led with unwavering passion and inspiration throughout history," Spelman said at the Award event at the United Nations Headquarters. "The beauty and the magic of the rainforests drive my passion to work on their behalf. Forests are life itself, and I find myself joining indigenous and local people in the rainforests in protecting them. The future of humankind and all that coexists with us demands no less. We're one planet after all."
# # # #
About Rainforest Partnership
Rainforest Partnership conserves and restores tropical rainforests by working with communities to develop sustainable livelihoods that empower and respect both people and nature. Its goal is to help rainforest communities become economically self-sufficient without deforestation while educating communities in the United States and elsewhere about the role rainforests play in climate protection. It serves to link communities located in and around Latin American rainforests with partner communities in the United States.
About The SDG5 Global Alliance
Born out of the Decade Of Women initiative launched at the United Nations, The SDG5 Global Alliance is a non-organizational, omniwin movement lifting the work of a wide range of SDG5 leaders and causes, with donations administered through The SDG Impact Fund. It has no staff and is directed by a team of pro bono Co-Chairs each year in an effort to lift inspirational and aspirational activations supporting the empowerment of women and girls (together with men and boys who share the vision!) all around the world. www.sdg5.global
About 5th Element Group PBC
5th Element Group PBC is a global impact accelerator that drives performance using frontier tech and innovation best practices to advance the common good. Our mission is to serve impact donors, investors and brands through six practice areas, which integrate traditional and innovative impact strategies to facilitate "omniwin" value exchanges. For more information, visit www.5thelement.group
About The Family Office Impact Summit at the United Nations
The 2019 UN Family Office Impact Summit at the United Nations is a private gathering of 300 Family Office, ESG, Impact, and Climate Change Experts to discuss the relationship between private capital and positive social change. Attendance is for Family Office Members only. For more information, visit www.sdgfamilyoffice.org.
Source: 5th Element Group PBC
Tags
Additional Links