5th Element Group PBC Joins the UN Global Compact
Press Release
•
updated: Aug 9, 2019
Announcement of Signatory Status Reflects Company's Leadership Role in the U.S. and India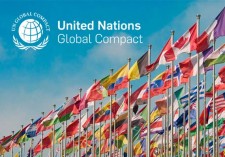 NEW YORK, August 9, 2019 (Newswire.com) - The United Nations Global Compact has announced today that 5th Element Group PBC has joined as a signatory and a participant. The Global Compact is a strategic initiative for organizations within the public and private sectors to align their operations and strategies with ten universal principles in the areas of human rights, labour, environment and anti-corruption.
"The principals of 5th Element Group PBC have been friends of the United Nations for years and are global champions for the Sustainable Development Goals in numerous ways," said William Kennedy, Senior Programme Officer of UN Officer for Partnerships. "5th Element champions the SDG Framework at UN events and events around the world, as well as with all their investor, donor, NGO and brand clients."
5th Element Group is a global impact accelerator that connects KPI-driven performance to SDG-aligned purpose. 5th Element designs and activates flagship "Public Private Partnerships" with its clients and provides related consulting services – including executive search and workplace wellbeing training for Leaders Who Care®, because they are the ones that make the real impact.
"The Sustainable Development Goals represent a very strategic framework for creating omniwin initiatives that connect actions to impact" said Edward Martin, Chief Omniwin Officer of 5th Element Group. "We are accelerating the way that the marketplace sees how purpose advances performance."
Earlier this year, 5th Element opened an office in Delhi, India with significant momentum under the leadership of country President Pratik Gauri.
"India must play a leadership role if the pursuit of the UN SDGs by 2030 can become a reality," Gauri said. "Our demographics give India a unique opportunity for upside, and dramatic gains in how we score against the Goals."
The UN Global Compact now includes 9,913 companies in 161 countries who have documented more than 64,000 SDG-aligned actions to date.
###
About 5th Element Group PBC
5th Element Group PBC is a global impact accelerator that drives performance using frontier tech and innovation best practices to advance the common good. Our mission is to serve impact donors, investors and brands through six practice areas, which integrate traditional and innovative impact strategies to facilitate "omniwin" value exchanges. For more information, visit www.5thelement.group
About the United Nations Global Compact
As a special initiative of the UN Secretary-General, the United Nations Global Compact works with companies everywhere to align their operations and strategies with ten universal principles in the areas of human rights, labour, environment and anti-corruption. Launched in 2000, the UN Global Compact guides and supports the global business community in advancing UN goals and values through responsible corporate practices. With more than 9,500 companies and 3,000 non-business signatories based in over 160 countries, and 70 Local Networks, it is the largest corporate sustainability initiative in the world.
For more information on 5th Element Group PBC, please contact Mary Elizabeth Russell at mer@5thelement.group.
Source: 5th Element Group PBC
Additional Links