4MedPlus Corp Partners With Cape Fear Community College to Benefit Their Regional Professional Workforce
Press Release
•
updated: Aug 31, 2020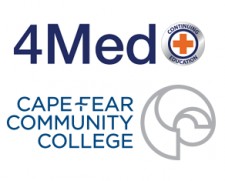 CHICAGO, August 31, 2020 (Newswire.com) - 4MedPlus Corporation is pleased to announce a new online educational partnership with Cape Fear Community College in Cape Fear, Wilmington, North Carolina. Through this new partnership, Cape Fear Community College will provide online access to an accredited catalog of healthcare compliance, security, and technology training to benefit their regional professional workforce.
Due to the recent pandemic, clinical medical providers and support staff have been forced to pivot to hybrid remote patient care and cloud-based administrative operations. In addition, intense demands associated with the crisis and accompanying technological shifts, have required healthcare professionals to expand their skillsets to keep up with their dynamic industry,
4MedPlus accredited training programs address critical areas of technology, security, and compliance to help the healthcare community adapt to new methods and models. It also delivers important CE credit to meet medical licensing requirements and compliance benchmarks.
"With the high demand for health care professionals in the Cape Fear Region, Cape Fear Community College is excited to collaborate with 4MedPlus to offer healthcare certifications and CEUs to professionals in our community," said Elizabeth Riepe, Cape Fear Community College Business & Industry Training Coordinator "Our steadfast goal is to provide high-quality training to meet workforce needs in our community. The Cape Fear region is reacting to COVID-19, and we are pleased to offer specialized certifications that may assist those working to combat the pandemic. Courses like Contract Tracing and Telehealth can provide front-line workers with the knowledge and skills they need to address this unprecedented health crisis. Online classes allow busy professionals to access high-quality training when it is convenient for them."
The online catalog offered by Cape Fear community college is highlighted as part of their continuing education initiative here: https://cfcc.edu/continuing-education/online-classes/. Interested learners may investigate, request and launch training on-demand immediately with up to a full year to complete any selected 4MedPlus course or learning path. Certificates and CE credit statements are issued automatically upon successful exam completion and special discounts are provided by the school and highlighted as part of the unique on-demand catalog system.
"We are very pleased to launch this new strategic training alliance with Cape Fear Community College," said Wendy Whitmore, Chief Learning Officer for 4MedPlus. "Our goal to support and guide the healthcare community in its' embrace of industry change, perfectly aligns with the Cape Fear mission to provide high-quality online educational resources for its regional professionals."
About 4MedPlus Corporation:
4MedPlus, headquartered in Chicago, Illinois; was launched over a decade ago, to address educational demands across the health-care continuum. The unique self-paced modular method allows learners to meet training requirements while continuing to focus on core professional goals. For more information, visit: https://www.4medtrainingcatalog.com/about-us.
About Cape Fear Community College:
For more than six decades, Cape Fear Community College's purpose has remained unchanged – to provide the Cape Fear region with accessible, quality education and world-class workforce-training opportunities. For more information, visit: https://cfcc.edu/about/.
Source: 4MedPlus Corporation
Tags
Additional Links