35 of Nation's Top Dance Teachers in Friendly Battle for Greatmats Instructor of the Year Award
Press Release
•
updated: Nov 10, 2018
4th Annual Award Honors Dance Instructors Who Have Positively Influenced Their Communities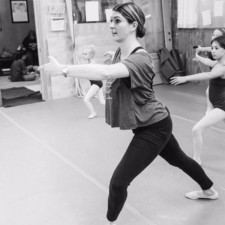 MILLTOWN, Wis., November 10, 2018 (Newswire.com) - Thirty-five dance instructors from 26 states around the nation find themselves in a friendly competition for the prestigious 2018 Greatmats National Dance Instructor of the Year Award. The award is designed to recognize instructors who have demonstrated service, integrity, and quality to make a positive impact on the lives of their students and community as a whole.
This year's nominees hail from the states of North Carolina, Alabama, Pennsylvania, Connecticut, Ohio, Massachusetts, Arizona, New Jersey, Missouri, Florida, Missouri, Louisiana, South Carolina, Kentucky, West Virginia, Massachusetts, Michigan, Utah, Illinois, Indiana, Georgia, New York, Idaho, Oregon, Texas, Nevada.
Up for the award are:
Crystal Sizemore - Center Stage Dance Studio - Enterprise, Alabama
Danielle Cicogna - Diamond Dance Works - Anthem, Arizona
Deb Shligersky - Dance Amore - Enfield, Connecticut
Marley Ramirez-Santana - Encore Dance Theatre - Sunrise, Florida
Heather Hardin Englemen - Stars of Grace - Chatsworth, Georgia
Gina Underwood - The Dance Factory - Pocatello & Idaho Falls, Idaho
Kimmie Knott - Project Dance Company - Macomb, Illinois
Yvette Walts - THR!VE - Evansville, Indiana
Jim Kochert - Talent Factory Arts and Dance - Lebanon, Indiana
Lori South - Creative Dance N' - South Bend, Indiana
Heather Fortier - LA Petite School of Dance - Louisville, Kentucky
Ketti Voisin - Inspired 2 Dance Performing Arts Center - Houma, Louisiana
Holli Faria - Studio Life Performing Arts - Fall River, Massachusetts
Lori Beccia-Gorgone - Dance On Dance Center - Hudson, Massachusetts
Ariel Lask - Limelight Dance Center - Ware, Massachusetts
Maria Zullo - Miss Maria's School of Dance - Watertown, Massachusetts
Michelle Marzejon - Michelle's Academy of Dance and Performing Arts - Hartland, Michigan
Tiffany Pleus - Elite Performing Arts - Jefferson City, Missouri
Jennifer Story - Gateway Dance Conservatory - St. Louis, Missouri
Gina Davis - Western Nevada Performing Arts Center - Carson, Nevada
Nancy Dixon - Dixon's Dance Academy - Vineland, New Jersey
Elaine Russell - Russells Dance and Baton Studio - Wildwood, New Jersey
Maria Ruffato - The 716 Dance Lab - Lancaster, New York
Alyssa Hudgins - Riverwalk Youth Ballet - Jacksonville, North Carolina
Bonita Simpson - Bonita's School of Ballet - Monroe, North Carolina
Julie Marks - Dance Etc. - Milford, Ohio
Mikayln Haney - The Lotus Studio - Salem, Oregon
Danielle Lykens - Star Performance Dance Academy - Duncansville, Pennsylvania
Leandra Maley - Crimson Academy for the Performing Arts - Saint Clair, Pennsylvania
Lea Wolfe - Pocono Academy of Dance - Sciota, Pennsylvania
Julie Martin - Julie's Fancy Feet Dance Academy - York, South Carolina
Diana McCormack - The Wilson County School of Ballet - Floresville, Texas
Jennifer Lumpkins - Turning Pointe Dance Center - Meridian, Texas
Nick Bloxsom-Carter - NBC Dance - Provo, Utah
Corinthia Rilko - Lil Jammaz Hip Hop Company - Morgantown, West Virginia
Finalists will be determined by an online vote at https://www.greatmats.com/2018-greatmats-national-dance-instructor-of-the-year.php between Nov. 15 and 29, 2018.
Greatmats will choose between the two finalists to determine the winner based on their demonstration of service, integrity, and quality.
Greatmats is a national dance flooring leader based in Milltown, Wisconsin, since 1999. Identified as one of the top 3,000 fastest growing companies in the USA three times since 2008, Greatmats gives back to its local community by donating 5% of its annual profits to local non-profit organizations. It also supports green initiatives through the use of solar energy at its Wisconsin headquarters and by offering a large variety of products made from recycled and renewable resources.
View all of Greatmats' dance flooring at http://www.greatmats.com/dance-flooring.php
Source: Greatmats.com
Related Media