$300,000 Match Gift for Women and Girls in Rwanda Helps Fuel $1.2M Year-End Micro-Donor Campaign by 5th Element and Solver for charity: water
Press Release
•
updated: Feb 1, 2019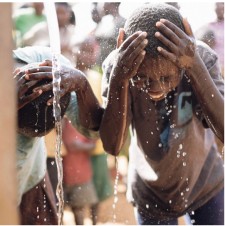 NEW YORK, February 1, 2019 (Newswire.com) - As part of the Decade Of Women campaign launched at the United Nations on International Day of Women last year, 5th Element Group PBC and Solver helped organize a $300,000 year-end match grant initiative to benefit women and girls through the work of charity: water.
The results of the matching campaign, which was focused on increasing micro-donor support relating to UN Sustainable Development Goals #5 (gender equality) and #5 (clean water and sanitation) and sponsored in partnership with Semnani Family Foundation, were released today. The campaign exceeded the $300,000 donor challenge and helped propel giving totaling over $1.1M during the final two weeks of December.
charity: water has become a global leader in the quest to provide communities with access to clean water. Lack of access disproportionately impacts women and girls, as they are the ones who typically collect water (often dirty and often miles away) for their families.
"We believe water changes everything, especially for women and girls," said Scott Harrison founder and CEO of charity: water. "Access to clean water means more time, greater opportunity and improved health for women and girls around the world. This year-end campaign was all about that."
The match donation was directed through 5th Element Group PBC as part of its "Solver" campaigns addressing the 17 UN Sustainable Development Goals. Funding support was provided by Semnani Family Foundation, in connection with the work of the SDG Impact Fund. This year's campaigns all involve projects that uplift women and girls and bring attention to key initiatives in the effort to help.
"charity: water connects individual donors with the impact of their donations better than any other NGO in the world," said 5th Element Group co-founder and President, Jim Van Eerden. "They also commit to deploying 100 percent of all public donations to the work in the field, and these two principles encourage more micro-donor participation in their life-giving efforts to get clean water to more people."
5th Element Group launched the Decade Of Women campaign to highlight the importance of women in leadership, especially as relating to the development and deployment of frontier tech in the global effort to achieve the Sustainable Development Goals by 2030.
In 2019, Decade Of Women organizers are challenging women and girls around the world to follow the charity: water cause, and share stories of struggle and triumph in any social media format using the hashtag #WomenRising. Participation in these campaigns is ongoing, with a current focus on Rwanda and Iraq.
——-
About the Decade Of Women
Launched on International Women's Day in New York, together with 5th Element Group and Thomson Reuters, the Decade Of Women solutions and action campaign announced their dedication to Completing the Equity Revolution. The Decade Of Women has brought forth a #WeUniteWe Pledge as part of a decade-long series of bold commitments to Celebrate, Unite and Exponentiate the progress of both women and men to complete the gender equity revolution, and realize UN Sustainable Development Goal #5 by 2030. DecadeOfWomen.org
About charity: water
charity: water is a non-profit organization that provides clean and safe drinking water to people in developing nations. The organization was founded in 2006 and has helped fund 29,725 projects in 26 countries, benefiting over 8.4 million people. Overall, the organization has raised over US$360 million as of Dec. 31, 2018. Give here → charitywater.org
About 5th Element Group PBC
5th Element Group PBC is a global business development accelerator with a mission of delivering frontier tech solutions with impact capital partners to achieve the Sustainable Development Goals. 5th Element creates capital that did not exist before, deploys that capital where it has yet to be deployed, and scales new forms of corresponding collaboration. 5th Element's vision is to help create a new socio-economic era that closes historic gaps in last-mile inclusion. 5thElement.Group
About SDG Impact Fund
SDG Impact Fund is quantum leaping the well-proven Donor Advised Fund (DAF) model into the 21st Century by uniting and marshalling the exponential power of the digital and impact frontiers to transform what is possible for humanity, prosperity and planet. SDG Impact Fund is one of the only fully independent DAFs in the United States, and the first to accept and deploy traditional assets and all forms of crypto, token and digital assets to deliver moonshots meeting the UN Sustainable Development Goals (SDGs). sdgimpactfund.org
About the Solver: Movement
The Solver: Movement connects people to the leaders achieving the UN SDGs through interactive campaigns and innovation prize competitions. Participate in progress with the Solver: Movement. solvermovement.com
About Semnani Family Foundation
The mission of the Semnani Family Foundation is to find creative and effective ways of serving the needs of marginal and vulnerable communities around the world, particularly those whose survival and security is at grave risk or immediate danger due to forces and factors beyond their control. Whether it is helping communities recover from disease, famine, earthquake or war, or promoting research, educational and civic initiatives, we focus our giving where we can make the most difference. semnanifamilyfoundation.org
For press inquiries about Decade Of Women or 5th Element Group, please contact Isabel Schaad at isabel@5thelement.group
Source: 5th Element Group
Related Media
Tags
Additional Links