29 Dance Teachers to Be Celebrated in 2019 Greatmats National Dance Teacher of the Year Award Contest
Press Release
•
updated: Nov 5, 2019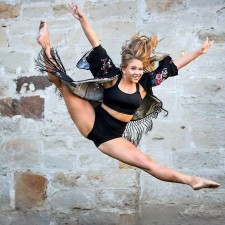 MILLTOWN, Wis., November 5, 2019 (Newswire.com) - ​The field is set for the 2019 Greatmats National Dance Instructor of the Year award contest.
Twenty-nine dance teachers from across the United States are vying for the fifth annual award, which honors instructors who have made a positive impact in the lives of their students and communities. These instructors have been nominated by members of their respective communities.
An online vote will take place at https://www.greatmats.com/2019-greatmats-national-dance-instructor-of-the-year.php from Nov. 14 through Nov. 28, 2019. The two instructors with the most votes will be named finalists. Then, Greatmats will choose the winner between the finalists, based on their demonstration of service/community impact, integrity and quality of instruction. The winner will be announced on Dec. 13, 2019.
This year's nominees are:
Arizona
Katie Wilson - Cactus Dance - Glendale
Vicki Lopez - Desert West Dance - Goodyear
California
Nicole Ceccarelli-Core - Tip Tap Toe Performing Arts - Benicia
Colorado
Eric Chase - Aspen Santa Fe Ballet - Aspen
Connecticut
Sharon Whalen - Dance Amore Performing Arts
Idaho
Andrea Williams-Rhodes - The Spot Dance Studio - Nampa
Illinois
Kimberly Bartoszewski - Stardom Dance Academy - Bloomingdale
Indiana
Kari Neuhauser - Dance Elite - Kokomo
Massachusetts
Lauren Murphy - In Sync Center of the Arts - Quincy
Missouri
Rachel Bodi - Devine Performing Arts and Ballet 314 - St. Louis
New Mexico
Sarah Gonzales - Keshet Dance and Center for the Arts - Albuquerque
New York
Sharon Mitchell - Mitchell Dance Company - Pine Bush
Juliana Stagliano - Studio D Dance Center - North Massapequa
Ohio
Molly McFarland - Sidney Dance Company - Sidney
Pennsylvania
Danielle O'Brien - 3D Dance - Northampton
Odin Jones - Adrenaline Dance of York - York
Kait Filipelli - Adrenaline Dance of York - York
Bethany VanSickle - Adrenaline Dance of York - York
Alice Mount - Adrenaline Dance of York - York
Hunter McCadden - Adrenaline Dance of York - York
Kaitlyn Hallinan - The Studio on Fifth - Altoona
Marianne Brash-Rieg - Twirl Time Studio - Pittsburgh
Tennessee
Michelle Burlingame - Burlingame Studios of Dance - Hermitage
Jordan Grace Melton/Lozoya - Roots Dance Academy - Brentwood
Texas
Les Jordan - North Central Ballet - Keller
Utah
Marci Rasch - Eim Dance Company - Nephi
Ashley Hess - Utah Dance Academy - Ogden
Virginia
Krystal Klem - Melinas Dancing Garden - Lorton
Pam Turner - Richmond Dance Center - Richmond
​The National Dance Instructor of the Year Award is one of eight annual awards given out by Greatmats as part of its Fifth Annual National Award Series.
Other awards include:
National Horse Trainer of the Year
National Dog Trainer of the Year
National Striking Martial Arts Instructor of the Year
National Grappling Martial Arts Instructor of the Year
National Cheerleading Coach of the Year
National Fitness Trainer of the Year
and National Gymnastics Coach of the Year
Greatmats is a national dance flooring retailer based in Milltown, Wisconsin, since 1999. Greatmats gives back to its local community by donating to local non-profit organizations. It also supports green initiatives through the use of solar energy at its Wisconsin headquarters and by offering a large variety of products made from recycled and renewable resources.
Source: Greatmats
Additional Links