22 Martial Arts Instructors Nominated for Greatmats National Award
Press Release
•
updated: Nov 12, 2018
Martial Artists Recognized for Positive Influence in Communities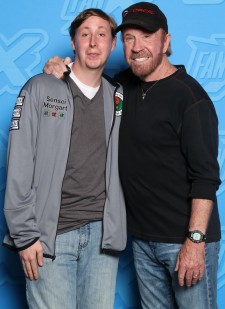 MILLTOWN, Wis., November 12, 2018 (Newswire.com) - Twenty-two U.S. martial arts instructors find themselves in a friendly competition for the 2018 Greatmats National Martial Arts Instructor of the Year award. The award is designed to recognize instructors who have demonstrated service, integrity, and quality to make a positive impact on the lives of their clients and community as a whole.
This year's nominees hail from the states of California, Idaho, New York, Wisconsin, Ohio, Georgia, Michigan, Indiana, New Jersey, Texas, Nebraska, Pennsylvania, Missouri, Oklahoma, North Carolina, and Massachusetts.
Up for the award are:
Manny Bujold - Agoura Hills World Champion Karate - Agoura Hills, California
Angie Wilson - Choi Kwang Do - Cartersville, Georgia
Matt Pattillo - Master Pattillo Martial Arts School, Winder, Georgia
Brent Williams - Aiki Academy - Boise, Idaho
Sterling Crawford - Treasure Valley Taekwondo - Nampa, Idaho
Brooke Harrington - iKick Martial Arts - Demotte, Indiana
Rita Pasquale - United Martial Arts Center - Danvers, Massachusetts
Chrystal Baetz - Grey Jiu Jitsu - Houghton Lake, Michigan
Alex Arnall - Springfield Martial Arts Center - Springfield, Missouri
Beverly Channer - Nebraska School of Martial Arts - Kearney, Nebraska
Victor Teran - International Taekwon-Do Academy - Jersey City, New Jersey
Michael Dones - Madmic The Mechanic - Bushwick, New York
Shawnie Brown - American Family Karate - Elmira, New York
Don Newell - The Martial Arts Training Institute - Charlotte, North Carolina
Jason Gehring - Mentor Martial Arts and Karate for Kids - Mentor, Ohio
Duyane Ernst - Championship Martial Arts Academy - Milford, Ohio
Alex Evers - Stillwater Martial Arts - Stillwater, Oklahoma
John Morgart Jr. - Wei Son Do Martial Arts - Irwin, Pennsylvania
Brock Genevro - Silver Dragon Martial Arts - Saint Mary's Pennsylvania
Dennis Livoto - The Woodlands Shotokan Karate - The Woodlands, Texas
Bob Nuttall - Karate University - Weatherford - Texas
Erich Podbielski - American Taekwondo West Bend - West Bend, Wisconsin
Finalists will be determined by an online vote at https://www.greatmats.com/2018-greatmats-national-martial-arts-instructor-of-the-year.php between Nov. 15 and 29, 2018.
Greatmats will choose between the two finalists to determine the winner based on their demonstration of service, integrity and quality.
Greatmats is a national martial arts flooring leader based in Milltown, Wisconsin, since 1999. Identified as one of the top 3,000 fastest growing companies in the USA three times since 2008, Greatmats gives back to its local community by donating 5% of its annual profits to local non-profit organizations. It also supports green initiatives through the use of solar energy at its Wisconsin headquarters and by offering a large variety of products made from recycled and renewable resources.
View all of Greatmats' martial arts flooring at http://www.greatmats.com/martial-arts-mats.php
Source: Greatmats
Related Media