20 Top U.S. Horse Trainers Prepare Greatmats National Award Vote Which Starts Nov. 15
Press Release
•
updated: Nov 11, 2018
Horse Trainers recognized for positive impact on community and industry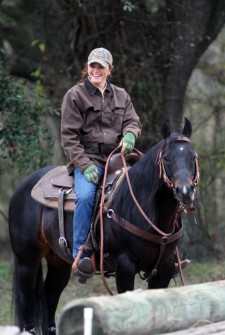 MILLTOWN, Wis., November 11, 2018 (Newswire.com) - Twenty of the most positively influential horse trainers in the U.S. find themselves in a friendly competition for the 2018 Greatmats National Horse Trainer of the Year award. The award is designed to recognize trainers who have demonstrated service, integrity, and quality to make a positive impact on the lives of their clients, animals, and community as a whole.
This year's nominees hail from the states of Louisiana, Minnesota, Michigan, North Carolina, Arizona, Florida, Oregon, Colorado, New Mexico, Texas, New Jersey, Georgia, Ohio, North Dakota, and Vermont.
Up for the award are:
Tammy Smith - Fox Mask Basic Horsemanship - Chandler, Arizona
Chelsie Kallestad - Chelsie Natural Horsemanship - Holbrook, Arizona
Tina Wright - Diamond in the Rough Horsemanship and Training - Fort Lupton, Colorado
Ben Grogan - Drifter's Hearts of Hope - Franktown, Colorado
Tom Johnson - Costa Nova Farm - Pierson, Florida
Lacey Salvatore - Haven Horse Ranch - Saint Augustine, Florida
Sandra Williamson - Rackettown Mustangs - Toombs County, Georgia
Rachel Bertrand - Bertrand Training Stables - Crowley, Louisiana
Susan Morris - 333 Ranch - Pride, Louisiana
Bill Thomas - Bill Thomas Performance Horses - Saginaw, Michigan
Terry Nowacki - American Equine Scenting Association - Argyle, Minnesota
Pete Corby - Overview Equestrian Center - Belvidere, New Jersey
Kendra Loring - Enchanted Equine Adventures - Albuquerque, New Mexico
Carley Wheelis - CW Horsemanship - Hillsborough, North Carolina
Mandy Helton - Helton's Horsemanship - McDowell, North Carolina
Rylan Sundsbak - Sundsbak Performance Horses - Hazen, North Dakota
Lisa Moad - Seven Oaks Farm - Hamilton, Ohio
Jan Lindsay - Diamond Bar Z - Coos Bay, Oregon
John M. Joyner, Jr. - Joyner Arabians - Canutillo, Texas
Claire Silver - Up North Stables - Derby, Vermont
Finalists will be determined by an online vote at https://www.greatmats.com/2018-greatmats-national-horse-trainer-of-the-year.php between Nov. 15 and 29, 2018.
Greatmats will choose between the two finalists to determine the winner based on their demonstration of service, integrity, and quality.
Greatmats is a national horse stall, stable and trailer flooring leader based in Milltown, Wisconsin, since 1999. Identified as one of the top 3,000 fastest growing companies in the USA three times since 2008, Greatmats gives back to its local community by donating 5% of its annual profits to local non-profit organizations. It also supports green initiatives through the use of solar energy at its Wisconsin headquarters and by offering a large variety of products made from recycled and renewable resources.
View all of Greatmats' horse stall mats at http://www.greatmats.com/horse-stall-mats.php.
Source: Greatmats.com
Related Media