1DayBottle: The First All-in-One Solution for Supplements On-the-Go, Now Available on Kickstarter
Press Release
-
updated: Oct 11, 2017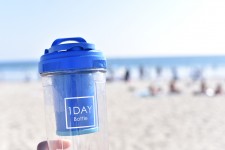 Newport Beach, California, October 11, 2017 (Newswire.com) - Introducing the 1DayBottle, the first all-in-one compact solution that makes it easy for users to take their powder supplements multiple times a day. The 1DayBottle is a dispense shaker bottle that stores a day's worth of powder for busy individuals to efficiently make and drink their nutrition supplements.
"Most individuals who actively take supplements find that they have to carry around their powder, a scoop and a shaker bottle. With the 1DayBottle, we have efficiently put it all into one," says Founder and CEO, Josh Jeon. "We wanted people to be able to save time and the hassle of making their supplement drinks or protein shakes when they're out and about."
The 1DayBottle has a powder compartment that holds up to 150 cubic centimeters of powder, which is plenty for an average day's worth. Users fill the dispenser compartment at the beginning of their day and can use the button at the top to drop the powder into the bottle throughout the day. Users then shake the bottle to create the optimal mixture, as the rounded bottom creates a vortex.
The design of the bottle has incorporated keen features that enhance convenience. The powder compartment comes with a silicon seal that prevents water from penetrating the dispenser. The lid is equipped with a sturdy loop that allows it to be comfortably carried. Additionally, the bottle is marked with measurement indications and has been designed for effortless cleaning. The 1DayBottle is made of premium materials and is offered in four appealing colors: white, black, blue and red.
Jason Kwon, the Marketing Director, adds, "We hope that the 1DayBottle can influence people to live healthier and more efficient lives. People today have so many things to attend to, and we wanted to create the 1DayBottle so that they don't have to sacrifice their daily routines or their nutrition."
Pre-order of the 1DayBottle is now available through the product's Kickstarter page (http://kck.st/2xBUviY), and it is a consumer-ready product with positive reviews. During the campaign, the 1DayBottle can be purchased for $25 as the Early Bird Special price. When the campaign funding goal is achieved, the company anticipates manufacturing and delivery to be complete in February of 2018.
About Long Tail Inc. 
Long Tail Inc. is a California-based startup developing effective solutions for individuals to prioritize their daily nutrition habits. The products are designed and developed in Newport Beach, California and are manufactured in Seoul, Korea. Long Tail was founded by team of experts and engineers who are committed to promoting healthy and productive lifestyles. More information can be found at 1daybottle.com.
Source: Altos Business Group on behalf of Long Tail Inc.
Share:
---
Categories: Entrepreneurship, Small Business, Food and Beverage Services, Sports, Fitness, and Recreation, Active and Healthy Living, Exercise and Physical Fitness, Nutrition, Sports-related Business, Sports
Tags: Active, Bottle, Business, Crowdfunding, Fitness, Health, Kickstarter, Nutrition, Protein, Shaker, Sports, Supplements
---