16 Equine Enthusiasts Vie for 2019 Greatmats National Horse Trainer of the Year Title
Press Release
•
updated: Nov 1, 2019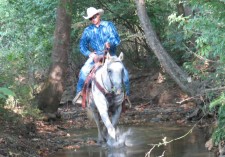 MILLTOWN, Wis., November 1, 2019 (Newswire.com) - ​The field is set for the 2019 Greatmats National Horse Trainer of the Year award contest.
Sixteen horse trainers from across the Unites States are vying for the 5th annual award, which honors trainers who have made a positive impact in the lives of their clients and communities. These trainers have been nominated by members of their respective communities.
An online vote will take place at https://www.greatmats.com/2019-greatmats-national-horse-trainer-of-the-year.php from Nov. 14 through Nov. 28, 2019. The two trainers with the most votes will be named finalists. Then Greatmats will choose the winner from between the finalists, based on their demonstration of service/community impact, integrity and quality of instruction. The winner will be announced on Dec. 13, 2019.
This year's nominees are:
California
Bill Cameron - Bill Cameron International Horsemanship - Mojave
Colorado
Nick Wilcox - Nicki Wilcox Show Jumping - Parker
Karen Stone - Stone Ranch - Littleton
Connecticut
Alyssa Gagnon - ABF Equine - Conventry
Kentucky
PJ O'Connell - Cowboy Way Ranch - Elizabethtown
Khari Pearson - Nydin Farm - Georgetown
Michigan
Bill Brown - Chase Lake Equine Center - Fowlerville
Missouri
Heather and Sterling Slemp - Slemp Performance Horses - Eugene
New York
Wick Hotchkiss - Stony Hill Stables - Amagansett
North Carolina
Victoria Shaw - Astoria Equestrian Center - Boonville
Ohio
Kaity Colliver - Walnut Hill Stables - Marengo
Pennsylvania
Lauren (Kerry) Nelson - Straight On Till Morning Farm - Little Marsh
Texas
Lorrie Gover - Lorrie Grover Horsemanship - Corpus Christi
Washington
Heather Flores - Desert Lane Performance Horses - Pasco
Karen Yuckert - Yuckert Ranch - Ellensburg
Wisconsin
Mike Hansen - Miek Hansen Performance Horses - Ladysmith
​The National Horse Trainer of the Year Award is one of eight annual awards given out by Greatmats as part of its 5th Annual National Award Series.
Other awards include:
National Dance Instructor of the Year
National Dog Trainer of the Year
National Striking Martial Arts Instructor of the Year
National Grappling Martial Arts Instructor of the Year
National Cheerleading Coach of the Year
National Fitness Trainer of the Year
and National Gymnastics Coach of the Year
Greatmats is a national horse stall, stable and trailer flooring leader based in Milltown, Wisconsin, since 1999. Greatmats gives back to its local community by donating 5% of its annual profits to local non-profit organizations. It also supports green initiatives through the use of solar energy at its Wisconsin headquarters and by offering a large variety of products made from recycled and renewable resources.
Source: Greatmats