13 Horse Trainers Compete for National Honor
Press Release
•
updated: Nov 30, 2017
Michigan and Kentucky Trainers Neck 'n Neck Down Final Stretch of Competition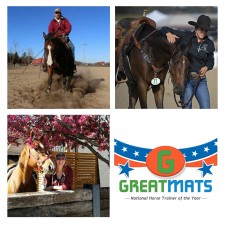 MILLTOWN, Wis., November 30, 2017 (Newswire.com) - ​They come from all different walks of life, but something these 13 horse trainers have in common is the fact that they are making a positive impact in their communities through their work with horses and beyond.
The following 13 horse trainers, representing 10 different states, have been nominated for the honor of National Horse Trainer of the Year, and award presented annually by Greatmats.
Voting, which began Nov. 16, is open to the public through Nov. 30 on Greatmats Facebook page as they weigh in on which two trainers will be named 2017 finalists for the award. Heading into the final day of competition approximately 40 votes separate the top two contenders - Kelly Murphy Alley of Willmore, Kentucky and Bill Brown of Fowlerville, Michigan.
The winner will receive horse stall mats, or a cash option, from Greatmats, which is in its third year of hosting the contest.
This year's nominees are as follows.
California
Ashley Salter of iRide4U in Santa Ynez
Colorado
Justin Dunn of Justin Dunn Horsemanship in Guffey
Frances Carbonnel of Mariah Farms in Castle Rock
Kentucky
Kelly Murphy-Alley of Striking KMA Performance Horses in Willmore
Beth Harris of Walnut Way Farm in Simpsonville
Michigan
Bill Brown of Chase Lake Equestrian Center in Fowlerville
South Carolina
TR Potts of Potts Performance Horses in Fountain Inn
Tennessee
Chrystal Crispin of Crispin Unlimited in Jonesborough
Texas
Jeremy Dull of Jeremy Dull Horsemanship in Hempstead
West Virginia
Mike Hurst of Mike Hurst Horsemanship in Philippi
Wisconsin
Sharlyn Fellenz of Mytalisha's Dream Riding Center in Eau Claire
Bryanna Larson of Pony Tales Refuge and Rehab in Colfax
Learn more about the 2017 National Horse Trainer of the Year Award and how to vote for your favorite trainer at https://www.greatmats.com/horse-stall-mats/greatmats-annual-national-horse-trainer-of-the-year-contest.php
As part of the National Award Series, Greatmats is also presenting awards to Martial Arts Instructors, Cheerleading Coaches, Personal Trainers, Dog Trainers and Dance Instructors. Learn more about the National Award Series at https://www.greatmats.com/greatmats-national-instructor-of-the-year-awards-series.php.
Source: Greatmats