101 Mobility Founder Turns to the World of Franchising
Press Release
•
updated: Oct 19, 2015
Keith Barnhardt, founder of 101 Mobility, brings reestablished energy to Fayetteville and Virginia Beach franchise markets.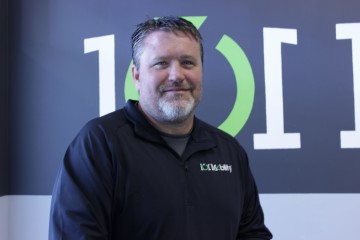 Fayetteville, North Carolina, October 19, 2015 (Newswire.com) - When a company's founder decides to transition into a franchisee role, one might think he or she has a great advantage, having built the business from the ground up. However for Keith Barnhardt, one of the founders of mobility dealer 101 Mobility, he disagrees.
"I wouldn't say that my past role gives me an advantage," Barnhardt explained. "I think that 101 Mobility has developed a good business model. People who are high executers, who are passionate about what they do, and who care about doing the right thing are going to be successful in this business."
"I'm best at developing relationships and trust with my clients. I like being out with the people. This position gives me the opportunity to get my hands dirty again."

Keith Barnhardt, Owner of 101 Mobility in Fayetteville, Virginia Beach
Barnhardt recently acquired two 101 Mobility franchise territories: one in Fayetteville, North Carolina and another in Virginia Beach, Virginia. 101 Mobility is a leading provider of mobility and accessibility equipment (such as stair lifts and wheelchair ramps) throughout the nation.
Barnhardt, along with Luke Sampson, originally founded the Wilmington-based company back in 2008. Barnhardt's family was instrumental in the success of 101 Mobility as well, with his retired father joining in the mix as an installer and his sister as a Greenville, South Carolina franchise owner.
According to Barnhardt, he's excited about starting his new role as a franchisee.
"Honestly for me, the corporate side of the business didn't give me a lot of energy during the last couple of years I was there," Barnhardt opened up. "I'm best at developing relationships and trust with my clients. I like being out with the people. This position gives me the opportunity to get my hands dirty again."
When it comes to Fayetteville and Virginia Beach, Barnhardt feels the two locations couldn't be any less similar. While the Fayetteville business has strong ties to the VA, due to the need of mobility and accessibility equipment for disabled veterans, he explained Virginia Beach (and the rest of Hampton Roads) lies a mostly "untapped market" for 101 Mobility.
"We want to increase awareness of our products to the general public and focus on retail growth in Fayetteville," he explained. "As for Virginia Beach, this place has loads of opportunity all around. We need to work as a team to bring awareness of 101 Mobility in their market."
Although Barnhardt has high hopes for the retail side of his franchises, he says that helping veterans in need will remain a major goal of his. He even hired three former servicemen (Ryan Price, Eric King, and James Travers) to join his Fayetteville and Virginia Beach teams.
"I have a passion for serving the people that served us," he stated. "As far as my staff goes, they energize me and hopefully I energize them. We're a team."
Barnhardt does, however, claim to have one advantage when it comes to his franchises' success.
"What does give me the upper hand is my ability to execute, assemble a team of great people, get them on board in a direction that I want to go in, and then get them to win. It's not because I was one of the original founders or because 101 Mobility was partly my idea. It's because my team and I are ready to take on these Fayetteville and Virginia Beach markets."
About 101 Mobility
101 Mobility is a full-service franchise business that specializes in mobility and accessibility equipment. Products include stair lifts, ramps, auto lifts, patient lifts, pool lifts, bath lifts, vertical platform lifts, and more. Visit 101Mobility.com to learn more.
101 Mobility franchisees are supplied with geo-specific online marketing campaigns, in-person training, on-going support, and a proprietary business management platform. Visit 101MobilityFranchise.com to find more information about our franchise process.
Related Media