WRNTY Sales Apps Rebrands as PEPPERI Sales Apps
WRNTY Ltd., #1 provider of Mobile sales apps for manufacturing, wholesale and retail, announced today that it is changing its name to PEPPERI, to reflect the innovation, sharpness and zest of its mobile B2B sales apps
Press Release
-
Oct 15, 2014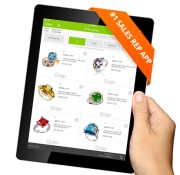 Ra'anana, Israel, Israel, October 15, 2014 (Newswire.com) - PEPPERI's complete order-to-cash mobile wholesale solutions are used by leading customers in various industries to grow their sales and reduce their costs, replace paper orders with electronic orders via a flexible mobile e-catalog, and integrate directly with back office processing including CRM, ERP and accounting. The Company's SupeRep app is rebranded PEPPERI for Sales Teams, and SuperBiz is now PEPPERI for Buyers, the online B2B wholesale self-service shop.
PEPPERI's cloud-based platform capabilities Provide one back office for all sales channel with a unified view of customer transactions while saving integration efforts.
 About PEPPERI Sales Apps
"PEPPERI's cutting edge sales solutions now have a beautiful new look that emphasizes our innovation. PEPPERI for Sales Teams and PEPPERI for Buyers are real game changers for our customers. We provide - an all-in-one solution for B2B sales with an e- catalog, automated ordering and full visibility to ERP data to ensure more sales, whether via the sales app that reps use or the 24x7 on line shop ."
PEPPERI is the market leader in complete and automated, order-to-cash mobile sales apps, enabling superior  e-catalog presentation and order taking. PEPPERI for Sales Teams is the App Store's most popular sales rep application. PEPPERI's customers upgrade their business from paper order taking into stunning, active e-catalogs that practically sell for them, while shortening the order-to-cash cycle, preventing mistakes and offer superior inventory handling. PEPPERI's platform includes PEPPERI for Buyers, a B2B sales order management app for Buyers that enables companies to deploy the same catalog presentation and order taking strengths in a self-service e-commerce site. Today, daily orders going through PEPPERI for Sales Teams and PEPPERI for Buyers are in the tens of millions of dollars. PEPPERI's apps run on iOS, Windows 8 and Android.
Among PEPPERI's customers: Rip Curl, CROCS, Bench, Elle Time & Jewelry, Guess Handbags & AccessoriesVF, Seculus, General Optical, Robin Ruth, Escorpion & Brammer to name a few.
For More information about PEPPERI, visit www.PEPPERI.com or visit mobile app stores.
---
Categories: Business Technology, Business Intelligence, Business
Tags: manufacturing, Order Taking App, Order Taking software, sales rep app, wholesale
---