"Weird Al" Ukulele Goes Missing From Downtown NYC Music Studio
"Weird Al" Ukulele Goes Missing From Downtown NYC Music Studio "Queen of Obscene" comedian Jessica Delfino's concert ukulele autographed by "Weird Al" Yankovic, band, apparently stolen
Press Release
-
updated: Aug 24, 2015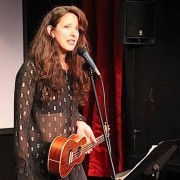 New York, NY, August 24, 2015 (Newswire.com) - "Weird Al" Ukulele Goes Missing From Downtown NYC Music Studio
"Queen of Obscene" comedian Jessica Delfino's concert ukulele autographed by "Weird Al" Yankovic, band, apparently stolen
Above left: a photo of a similar style and size ukulele, above rt: Jessica and her ukulele, "Ol' Brownie", in better times
A long-time downtown "dirty folk rock" musician and comedian reports that her ukulele has been plucked from her Chinatown music studio, "The Unicorn", where she teaches music and produces creative works. According to the performer's Facebook "Plinky Alert" post, she was played by a thief who appears to have lifted the instrument, which her hit demented comedy songs such as the Catholic League denounced, "My Pu55y Is Magic" were strummed upon, sometime last week from the newly opened 500 square foot music studio and performance space. The comedian, who's recent appearances include IFC's Comedy Music Hall of Fame and The Jim Gaffigan show, values the uke at about $250, but more importantly, laments that it was autographed by "Weird Al" Yankovic and his band during her stint as part of his Apocalypse tour, and was a gift from one of her music students. A reward has been offered for information leading up to the return of the ukulele, no questions asked, no strings attached.
From Jessica's Facebook page:
Plinky Alert: Concert Ukulele Missing From 105 Henry Street Music Studio
I'm super bummed to announce that it appears someone walked out of The Unicorn with my favorite uke-axe, Lil' Brownie, my concert Lanikai ukulele. It's monetary value wasn't super high, but it was autographed by Weird Al Yankovic and his band and was also a cherished gift from a dear long-time student of mine. It was last seen last week at The Unicorn in it's case. If anyone sees a concert Lanikai ukulele with Weird Al autographs on it at a pawn shop or online or knows any details about it's disappearance, please reach me at my crime-stopper email, info@theUnicornNYC.com and report it!! REWARD FOR INFO LEADING TO / THE SAFE RETURN OF LIL' BROWNIE, no questions asked. Thank you. I'm also now, sadly, in the market for a new ukulele, if anyone has one to sell. 
Share:
---
Categories: Music, Arts and Entertainment, Organized Crime, White Collar Crime
Tags: autograph, Chinatown, comedy, crime, downtown, instrument, Jessica Delfino, music, New York City, stolen, ukulele, Weird Al
---