Thomas Law Offices Launches Newly-Designed Website and Content Update Plan
Thomas Law Offices launches brand new website using the latest in web technologies while also being fully accessible on any device (smartphone, tablet, or PC).
Press Release
-
Jun 26, 2015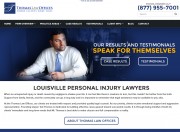 Louisville, KY, June 26, 2015 (Newswire.com) - Thomas Law Offices, a private practice law firm working in the areas of personal injury, medical malpractice, and pharmaceutical cases in Louisville, KY, has launched a newly-designed, responsive website that aims to help those in need of legal aid better navigate the challenges the legal world often presents. The website will now provide a user experience that is as high in quality as the legal services clients at Thomas Law Offices have come to know and depend on.
As part of this improved user experience, the site has been redesigned from the ground up with Google-compliant responsive web design elements in place. This ensures clients and potential clients can view the site on any device—via PC, Mac, tablet, or mobile—and view all site elements and components flawlessly. The design has also been modernized and reworked with a fresh layout that better guides viewers toward information.

In addition to the website's reworked design elements and increased functionality, the site will be receiving regular content updates. These updates will be in addition to the existing case information already present and will be in the form of articles and videos that help potential clients and current clients learn more about the processes involved in opening a personal injury/pharmaceutical case.
Attorney Tad Thomas, owner and founder of Thomas Law Offices, had this to say regarding the site's new, upcoming content:
"We want our website to be a service to our clients and others in need of legal information. So we will be adding helpful articles and videos to answer the most common questions we see in our areas of practice."
The firm's goal is to provide help to victims of tragedy and their families in as many ways as possible whether that aid provides assistance with a case, simple legal advice, or much-needed information that is often difficult to find online. With these updates and the new site, the law firm hopes to create a reliable, up-to-date resource center that will prove useful to those in need for years to come.
About Thomas Law Offices:
Thomas Law Offices, located in Louisville, KY, first opened in 2000 when owner Tad Thomas envisioned a private practice where the needs of victims and their family members always came first. The lawyers and staff members at Thomas Law Offices pride themselves on treating every case as though it were their own. They give back to the community whenever possible by volunteering to improve education and senior care as well as defend the right to trial by jury.
The firm chooses to focus on serious personal injury cases involving defective product liability, defective drug/medical devices, nursing home neglect/abuse, and automobile accidents. By focusing on these specific areas, Tad Thomas and his staff members feel they can devote as much attention as possible to those who are truly in need.
Contact:
The Thomas Firm, PLLC
239 South Fifth St. Ste 1800
Louisville, KY 40202
Toll Free: (877) 955-7001
Fax: (877) 955-7002
Email: tad@tadthomas.com
Share:
---
Categories: Marketing, Commercial Law, Law
Tags: digital marketing, louisville ky attorney, medical malpractice attorney, personal injury attorney, personal injury lawyer, responsive webdesign
---