The New Early Childhood Professional - a Step-by-Step Guide to Overcoming Goliath: Leadership Insights, Stories of Inspiration, and Calls to Action.
This book is an inspirational piece for early childhood practitioners in today's fast changing world. The authors present a concrete framework with specific steps to empower childhood educators to become change makers in their field. Complete with leadership insights and strategic approaches used by practicing educators, the book is a powerful tool that provokes thoughts and inspires action.
Press Release
-
Aug 24, 2015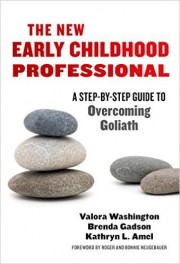 Washington DC, August 24, 2015 (Newswire.com) - Council for Professional Recognition (CDA Council) is proud to announce the release of a new book co-authored by the Council's CEO Dr. Valora Washington. The New Early Childhood Professional - A Step-by-Step Guide to Overcoming Goliath presents heroic experiences and strategic approaches used by early childhood educators and a framework with concrete steps to help educators become positive change-makers in the field of early childcare education. 
Sixty to seventy percent of children under the age of 6 are enrolled in some type of early education – and only 30% are enrolled in a high quality program. Every day, millions of families drop off their young children at child care or preschool — not really knowing much about the people who care for their young children or the circumstances under which they work. Early education is growing in popularity for children of all backgrounds, and as a matter of public policy preschool is being promoted as a means to close the achievement gap and reduce social inequities.
This handbook is not just based on one person's story or theory of how organizations of social change work. Rather, it presents insights and experiences of hundreds of practicing early childhood leaders.  The majority of staff are part-time, but even when full-time, incomes are near federal poverty levels. The immigrant share of the workforce has grown by 250%.
Two "calls to action" are offered: 1. During this dynamic era of interest in early learning, early educators must be better organized, equipped, and empowered to lead change for both children and themselves — to face their "Goliaths" with confidence and persistence and. 2. Families and communities must realize that the powerful public impact of early education often occurs at significant personal costs for the early educator.
As studies continue to show positive child outcomes are directly linked to the quality of the staff and programs The Early Childhood Professional takes readers through a progressive journey toward ensuring that all children have equal opportunities for success and eliminate inequities that limit them in achieving their potential.
ABOUT COUNCIL FOR PROFESSIONAL RECOGNITION:
For 30 years Council for Professional Recognition® (CDA Council) promotes improved performance and recognition of professionals in the early childhood education of children ages birth to 5 years old. The Council works to ensure all professional early childhood educators and caregivers meet the developmental, emotional, and educational needs of our nation's youngest children. The Council recognizes and credentials professionals who work in all types of early care and education programs – Head Start, pre-K, infant-toddler, family child care, and home visitor programs.
For more information about the Book and the CDA council, please contact Craig Ballard at (202) 265-9090, Ext. 1213 or email at CraigB@cdacouncil.org.
Share:
---
Categories: Public Schools, Education
Tags: CDA Council, Council for Professional Recogni, early care, early childhood development, early childhood education, The New Early Childhood Professi, Valora Washington
---