Swap a Bicycle With the Newly Launched Self-balancing Electric Scooter Airwheel Q5
Nowadays electric self-balancing scooter is gradually taking over bicycle as a gear for workout and commute. The safe and user-friendly Airwheel self-balancing scooter Q5 is born to combine recreation and sport.
Press Release
-
Dec 15, 2014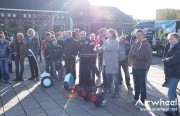 Los Angeles, CA, December 15, 2014 (Newswire.com) - The newly-launched electric self-balancing scooter Q5 realizes commuters' anticipation for smoother and more time-efficient commute. The ordinary scooter and bicycle are no longer the only choices for workout and commute. It's time to break free to enjoy the fun brought by Airwheel electric self-balancing scooter.
The intelligent electric self-balancing scooter Airwheel Q5 is set to redefine the eco-friendly transporter. Airwheel Q5 boasts potent power and is designed to facilitate people's everyday life in lieu of a bicycle. Daily Mail in UK has published the top 10 congested cities in Europe. Istanbul, the biggest city in Turkey, has become the most congested city in Europe according to a recent research. Other congested cities are: Warsaw in Poland, Marseilles in France, Palermo and Rome in Italy. Fortunately, Paris and London are off the list. The traffic congestion is not regarded as a sign of urban prosperity, on the contrary, it is just making people upset and making their lives worse. The Airwheel electric self-balance unicycle, which is the most necessary product in this intense situation with congested traffic, has shown up at the right time. Thanks to Airwheel self-balance unicycles, people can get rid of traffic jams to live an easy life.  
Self-balance unicycle Airwheel Q5 is the fashionable, delicate and breaking new transporter launched by Airwheel Technology Co. Ltd. It is easy to control with its single wheel and can be applied in many cases. Self-balance unicycle Airwheel Q5 is designed with a self-balance system to keep the rider balanced and safe while he/she is riding it. There is also a speed limitation control system to keep a constant speed while the Airwheel self-balance unicycle is going down a hill, which ensures the rider's safety.
Airwheel self-balance unicycle is popular among more and more people in Europe and America after they saw its excellent performance. It has become commuters' favorite transporters as it can go directly from their houses to workplaces, and they can enjoy the free experience riding on the way. The design & research team from Airwheel Technology believes that self-balance unicycle is the trend of future as people are more willing to accept new things nowadays. More and more people have foreseen the great potential market of Airwheel self-balance unicycle and started to contact Airwheel for business opportunities.
Airwheel electric self-balance unicycle is a fresh lifestyle instead of a personal transporter. Standing out for distinctiveness, it integrates workout and recreation, innovation and freedom. In a word, just ride free.
About Airwheel Technology Co., Ltd 
Airwheel Technology Co., Ltd. offers the state-of-the-art personal transporter solutions, which is based on the aerospace attitude control, fuzzy software algorithm, and intelligent gyroscope system to maintain balance by leaning forward and backward. Airwheel manufactures the greenest and lightest smart unicycle which can be easily carried into buses or subways to facilitate daily commute. Airwheel boasts of 3 major R&D centers located respectively in L.A (U.S.A), Beijing and Changzhou.
Media Inquiries
Contact Person: Eric
Telephone: +86-519-8829-6900
Email: business@airwheel.net
Self-balance Scooters Website: http://www.airwheel.net
Share:
---
Categories: Transportation, Travel, Personal Travel, Sports
Tags: airwheel, electric scooter, scooter
---