Sustainable Spartans Bring Solar SmartTable to Michigan State University.
Press Release
-
updated: Apr 24, 2015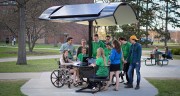 Alexandria, VA, USA, April 24, 2015 (Newswire.com) - On April 15th 2015, Michigan State University made another step toward becoming a more sustainable campus. The student group known as the Sustainable Spartans orchestrated the purchase and installation of the new Evodia Mini Solar SmartTable from SolGreen Solutions. The innovative solar charging table was installed by the SolGreen team in the MSU South Campus Courtyard.
In celebration of their achievement, the Sustainable Spartans held an Environmental Gala at the Wonders Kiva, which included several guest speakers, refreshments, a photo shoot, and a ribbon cutting ceremony. SolGreen's founders attended this monumental and festive event.
The SolGreen team was warmly welcomed and appreciated by MSU. Throughout the installation and testing of the new Evodia Mini, Team SolGreen fielded several questions regarding its features and usability. Inquisitive students and faculty were elated to learn of the Evodia's solar charging capabilities, and how it will enhance their outdoor campus experience. SolGreen and the Sustainable Spartans anticipate this first Evodia Mini for MSU will be an overwhelming success with students and faculty alike.
The Evodia Mini is an outdoor solar charging table allowing users to power laptops, smartphones and other mobile devices with 100% renewable solar energy! The patented Evodia Mini boasts impressive standard features such as four 110V and four USB power outlets, back supportive seating, LED lighting, and an Intelligent Rain Detection System. Many additional options are also available including custom colors, logos, handicap accessibility, Wi-Fi, and more. Made in America from industrial grade fiberglass and steel, the Evodia Mini is both durable and attractive.
Please visit us on the web at www.solgreensolutions.com for more information, and contact us with any questions or for a free quote.
About SolGreen Solutions:
SolGreen Solutions is a progressive solar research and engineering service company, specializing in development of green high-tech devices. Founded in 2009 by two engineers.  SolGreen Solutions has been revolutionizing the solar industry with their innovative designs and engineering solutions.
SolGreen Solutions. Technology for a Greener Tomorrow!
Contact Info
Phone: 1-844-SOLGREEN Email: sales@solgreensolutions.com Web: www.solgreensolutions.com
Share:
---
Categories: Business Technology, Colleges and Universities, Business
Tags: charging station, charging table, clean energy, college, Entrepreneurs, solar, solar power, university
---