SuppTech Releases New XXL Weight Gainer Pills
With proven, all-natural ingredients, XXL Weight Gainer pills are the safe, easy way to bulk up, put on weight, and get thick fast.
Press Release
-
Jan 28, 2015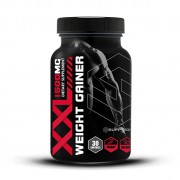 United States, January 28, 2015 (Newswire.com) - SuppTech, a leading manufacturer of top-selling health supplements like Gluteboost breast and butt enhancement supplements and Garcinia Cambogia weight loss pills, is proud to announce the release of its newest product – XXL Weight Gainer pills. Containing proven, all-natural ingredients, this proprietary weight gain formula of herbs and protein sources stimulates the appetite, encourages muscle growth, and helps the body pack on the pounds.
"Whether you're looking to build muscle and bulk up or you're trying to get a thicker, curvier body, our XXL Weight Gainer pills are the easiest, safest way to get the physique you've always wanted," said Jonathan Weisman, President at SuppTech. "Our weight gainer pills contain natural ingredients, like Echinacea, soy, and Ashwagandha, to help you gain weight fast."
The proprietary blend of ingredients in XXL Weight Gainer pills sets this product apart from other weight gain supplements. All ingredients are natural and offer unique benefits to contribute to weight gaining. Ashwagandha, for example, improves the size and definition of muscles and delivers testosterone to aid in athletic performance, a valuable ingredient for those training in the gym who want to pack on muscle. Echinacea, on the other hand, increases red blood cell production to improve oxygen intake, helping the user work out harder and lift more weight to bulk up muscles.
"Every ingredient in our XXL Weight Gainer pills helps you get bigger. We have people who take these pills to help with their weight training, and others who take these pills along with our butt enhancing supplement Gluteboost so they can get thicker and get a bigger butt," said Weisman. "XXL Weight Gainer is great for anyone who wants to put on weight. It's that simple."
XXL Weight Gainer has just gone up for sale, and SuppTech offers several different bundle deals to appeal to customers with any budget. Each bottle contains 30 pills. A single bottle can be purchased at $49.95. A bundle of 2 bottles is on sale for $94.95. For $134.95, customers can get 3 bottles of XXL Weight Gainer. However, by far, the best deal is SuppTech's package deal that includes 6 bottles of XXL Weight Gainer for $179.95. That's just $29.99 per bottle for a total savings of $120.00 off the retail price.
"Not only do our XXL Weight Gainer pills contain the best blend of natural ingredients, but they are also competitively priced to offer the best deal you'll find anywhere," said Weisman. "Already, we've had a lot of customers ordering our weight gainer pills, and we're hearing some great feedback as they start to see excellent results!"
For more information about XXL Weight Gainer pills from SuppTech, visit www.Gluteboost.com/weight-gainer-pills. 
Share:
---
Categories: Exercise and Physical Fitness
Tags: Weight Gainer pills, Weight Gainer supplements, XXL Weight Gainer pills
---