Skin Parasites Specialist's Book Reveals Unique King Diet™ for Easing Symptoms
The King Diet provides relief for skin parasites and Morgellons disease.
Press Release
-
Apr 29, 2015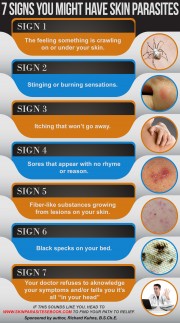 Bountiful, UT, April 29, 2015 (Newswire.com) - Get Your Life Back (From Morgellons and Other Skin Parasites), a book dedicated to helping people overcome life-changing skin parasites, reveals the author's unique King Diet™  and other methods for treating symptoms.
Morgellons and skin parasites inflict considerable misery on thousands of people, causing uncomfortable itching & stinging sensations, sores, and lesions; yet the medical community is continually criticized for its lack of sympathy with sufferers. Richard Kuhns, B.S.Ch.E – a chemical engineer specializing in biofeedback, stress-management and relaxation-methods – has created am e-book aimed at helping those suffering with skin parasites overcome their symptoms.
How to Get Your Life Back (From Morgellons and Other Skin Parasites) explores: the various skin parasites, and diagnosing them; a guide to disinfecting clothing, furniture, bedding, and other close-contact pieces; medicines and medical approaches helping with parasites; alternative treatment methods & using supplements. The book also discusses the three-stage King Diet™, a special eating plan created to starve skin parasites and help ease symptoms of Lyme disease.
Richard Kuhns contracted skin parasites in the mid-90s, and was shocked to receive no help from the medical community. Discovering the King Diet™ helped him enjoy his life again, and this book explores this change; it is also the first book exploring skin parasites and evaluating the numerous options on the internet.
Kuhns is also the author of another book called The Scale Conspiracy, in which the King Diet is featured.  The book discusses managing weight by dealing with the emotion behind the excess weight. Eliminating weight is often done best with a structured diet and the King diet is one of the healthiest ways of eating.
"Until I discovered the King Diet™, my life had become a nightmare," said Richard Kuhns. "The lack of support from the medical establishment was a shock, leaving me feeling disheartened and  isolated. By writing about my experiences, and revolutionary treatments, in this book, I hope to show people suffering from Morgellons and other skin parasites that their lives don't need to be over: they can overcome their symptoms, and get a new lease of life."
For more information on Get Your Life Back (From Morgellons and Other Skin Parasites), visit http://www.skinparasitesebook.com/ ​
About Get Your Life Back LLC:
Richard Kuhns is the author of How to Get Your Life Back (From Morgellons and Other Skin Parasites), a unique book exploring the difficulties afflicted people face and treatments designed to ease suffering. The book features valuable advice and treatment methods, including the King Diet™.
Contact:
(385) 399 2125
Share:
---
Categories: Books, Active and Healthy Living, Alternative Medicine
Tags: alternative medicine, debriding soap, morgellons, skin parasites
---