Quake Outcasts Campaigns for New Zealand's Red Zoned Residents
The group advocates for residents whose homes have been "red zoned" following a 2011 earthquake.
Press Release
-
May 12, 2015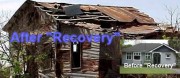 Christchurch, New Zealand, May 12, 2015 (Newswire.com) - Quake Outcasts is a residents' group dedicated to advocating and protecting the rights of all home-owners who were red zoned in the aftermath of the 2011 Christchurch earthquake and its aftershocks.
The Canterbury earthquake struck New Zealand's South Island on 22nd Feb, 2011[M1] , reaching X (Extreme) on the Mercalli Intensity Scale – this led to severe aftershocks (including one which claimed the lives of 185 people). The main quake caused catastrophic damage to various areas of Canterbury and Christchurch. Following these catastrophic events, the government formed 'red zones': they are now attempting to buy properties in these spots – whether seriously damaged, slightly damaged, or unaffected altogether – and encourage residents using coercive means to relocate. By using earthquake and insurance as red herrings, the government is taking private property unjustly.
Some offers have only been made at 50% of the properties' land-only rating valuation.
Official explanation for buying these properties is that the land is too damaged to support housing, and infrastructure is too costly to repair. The problem many affected residential "red zone" home owners have is that not everyone is affected so badly by the quakes that they have to move. Many don't wish to move, but are being forced to at only a fraction of their home's value. Quake Outcasts is campaigning for fair treatment of all affected by this, believing that the government's attempts to force residents out of their homes, at a lower price than other affected residents, is unfair, illogical, and declared unlawful by the Supreme Court.
The government also threatens that if one doesn't accept the 'voluntary' offer, a compulsory buyout will be made at a lower price, and that essential services such as power, water and sewer will be turned off to force the homeowner out.
Aside from the obvious moral and legal issues, this practice is a problem for three reasons;

1. Uninsured home owners have their homes condemned, without due process or just cause, facing a total loss of their home's value.

2. Under-insured home owners are offered reduced buyout price, proportional to their insurance coverage leading to a substantial loss in home value.
3. Fully-insured home owners cannot repair, or rebuild (if necessary) on their own land, and will lose some or all insurance entitlements if they choose to sell to the government.
"The earthquakes of 2010 and 2011 were devastating enough, but the government's appalling treatment of vulnerable residents in the aftermath has only added to people's suffering," said a spokesperson for Quake Outcasts. "The government should be working to help those affected recover, and repair their homes – whether insurance covers this, or those without pay from their own pockets. In areas where land is unstable – as they claim – fair prices should be offered: people feel as if they are being punished, and effectively held hostage in these red zones.
"We advocate for the right for any home-owner to live where they desire without government interference, and for fair and just compensation to all home-owners that the government insists on relocating. We encourage anyone affected to join us and support our campaign."
For more information on Quake Outcasts, visit http://savemyhomenz.org/ ​
About Quake Outcasts:
Quake Outcasts is a residents' group formed to advocate and protect the rights of all home-owners red zoned following the Canterbury earthquakes. Their aim is to encourage the government to: change their treatment of affected residents, offer fair prices for properties, and end attempts to force home-owners into relocating needlessly.
Contact:
(385) 399 2125
Share:
---
Categories: Insurance, Politics, Legislative Branch/Congress
Tags: christchurch earthquake, earthquake red zone, new zealand earthquake, new zealand red zone, quake outcasts
---