PULSE of NY Launches Universal Patient Safety Flag
Training and advocacy organization saw need for a unifying symbol.
Press Release
-
Sep 25, 2015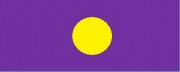 Wantagh, NY, September 25, 2015 (Newswire.com) - Every country has one; so do international organizations like the Red Cross, causes such as same-sex marriage, and ethnic groups such as Aboriginal people in Australia. We're talking about flags. A good flag is immediately identifiable and unites people who understand its meaning.
Now, the cause of patient safety has a flag too.
Ilene Corina, who heads Long Island-based patient safety advocacy group PULSE of NY, designed the new flag. She says, "With more than 400,000 lives lost in this country due to preventable medical error every year, there has to be a connection between all those people who have lost loved ones. We hope the new flag will symbolize their unity."
"A bright sun on a somber field is a simple symbol, but it sends a powerful message: hope can rise from sorrow."
Colors
Purple, she says, is not only a royal color, but in many places a color of mourning and grief. But within the purple field is a sunrise-yellow disc symbolizing hope and new beginnings.
Other patient safety leaders are in support. "This symbol represents the solidarity of patients in support of safe, patient-centered care and active patient engagement," comments Lisa Freeman, Executive Director of the Connecticut Center for Patient Safety. "By sharing this symbol and spreading it far and wide, we are all raising awareness of the patient's perspective in all aspects and at all levels of the healthcare system, and at the same time, we are empowering patients.  Nothing about us without us."
Helen Haskell , Founder, Mothers Against Medical Error and President, Consumers Advancing Patient Safety, adds: "A bright sun on a somber field is a simple symbol, but it sends a powerful message: hope can rise from sorrow. The aspiration to create good from tragedy, to bring hope to those who are most vulnerable, is at the core of the patient safety movement. This is a badge that those who advocate for a brighter future for all patients can wear with pride."
Wear the Pin
PULSE is arranging production of pins bearing the new symbol. "Wear the patient safety flag pin when you visit your clinician or check in to the hospital," says Corina. "Let healthcare staff see that you are aware of patient safety issues and will actively participate in keeping yourself and your family safe while in care."
Patient safety flag pins may be ordered by emailing info@pulseofny.org. Price is $25 for 20 pins. PULSE will be distributing 200 pins at its "Comedy for a Cause" fundraiser on September 27.
---
Categories: Non Profit, Healthcare, Healthcare
Tags: flag, helen haskell, lisa freeman, logo, medical error, patient safety, pin, pulse, pulse of ny, symbol
---