OneSafe Announces Launch of Kickstarter Campaign
Crowdfunding Initiative Aims to Mobilize Consumers Concerned over the Lack of Privacy in the Cloud.
Press Release
-
Nov 24, 2015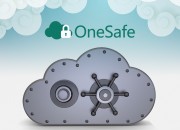 Redmond, WA, November 24, 2015 (Newswire.com) - OneSafe, a technology company committed to protecting consumers' privacy in the cloud, announced before Thanksgiving that it has launched a KickStarter campaign with the goal of raising $50,000. The funds will be used to help expedite product engineering and server acquisition, and secure other support needed for the company's Beta2 launch. 
OneSafe uses advanced proprietary technologies and proven cryptographic algorithms to provide a better and more private cloud experience for all users. The software encrypts valuable files on the user's device with a master key before uploading them to cloud storage services such as Dropbox, Google Drive and OneDrive.
OneSafe is under the leadership of a skilled, motivated, and innovative team of security and engineering professionals. Sean Yao, Ph.D. has over 10 years of experience in the research and development of security and large-scale online systems. Adam Kamor, Ph.D. is a physics expert who has made major strides in the software industry in recent years. Sunny Wu is a veteran entrepreneur with proven successful strategic product vision, design and execution in the mobile and cloud space.
"Hackers, service providers, governments and other entities have the ability to censor, spy and exploit the data that consumers put into the cloud," said Adam Kamor, chief marketing officer. "Our team is relying on the financial support of everyone who believes they have a right to their privacy in the digital world. Their support will help us to remove the frictions of using public cloud storage for normal users while protecting the privacy of their data."
Backers who contribute between $5 and $9,900 will be rewarded with campaign perks and rewards, ranging from a personalized thank you letter from the OneSafe leadership team and early access to the web service and mobile apps, to multiple licenses and VIP and lifetime product access.
For more information about OneSafe and to contribute to the KickStarter campaign, visit www.onesafe.io
Share:
---
Categories: Business Technology, Security, IT Security, Web 2.0, Internet
Tags: backup, cloud privacy, cloud storage, encryption, multi-cloud management, online privacy
---