NINOX Releases The Carson Chinos Featuring Schoeller Dryskin
Announced today, NINOX releases their new Carson Chinos made from Schoeller dryskin fabric.
Press Release
-
Apr 14, 2015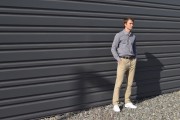 Boulder, Colorado, April 14, 2015 (Newswire.com) - NINOX continues to feature Schoeller's® innovative textiles in their newest addition to their menswear line. NINOX incorporates the highly technical Schoeller® Dryskin Softshell in its new Carson Chinos. 
NINOX is led by co-founders Greg and Linda Casals and Allie Thielens. Based in Boulder, Colorado at the foothills of the Rocky Mountains, the robust active lifestyle provides the ideal home base for NINOX. NINOX designs clothes that are fashionable, functional and durable.
NINOX launched last fall featuring Schoeller® fabrics in their line of outerwear.  They are now expanding the line with the Carson Pant made of schoeller®-dryskin , a soft, stretch-woven fabric that is highly breathable, extremely hard wearing and very easy to care for. schoeller®-dryskin is specially treated with NanoSpere®, which prevents dirt from adhering and causing water to roll off. Because of the technical properties, schoeller®-dryskin is perfect for clothing made for an active lifestyle, such as NINOX's Carson Chinos. 
The NINOX Carson's combine the functionality of a mountaineering pant with a classic design that will take you from boardroom to back country. They look like classic chinos yet are durable and tough on the outside, soft and comfortable on the inside. The four-way stretch allows for additional comfort for activities such as hiking, climbing, biking or traveling.
"Schoeller® is known for having the highest quality performance fabrics. As soon as you touch the fabrics you can feel the difference," said Allie Thielens a co-founder of NINOX.  Schoeller® Textil AG is based in Sevelen, Switzerland and is known for innovation as well as being a very high-tech, clean, and modern textile mill.   
 
"Core to designs here at NINOX is the use of premium fabrics. We want our items to be multi-functional and comfortable without sacrificing style. Schoeller® fabrics allow us to offer all of these qualities," said Linda Casals, also a co-founder of NINOX.
"It's been a pleasure to work with the team at Ninox.  The vision of the brand, choices of materials, and design elements mirror the values of Schoeller®," says Tom Weinbender, President of Schoeller® Textil USA.  
The NINOX Carson chinos will be available directly through their website at www.ninox.cc and at select boutiques. Follow NINOX on Facebook, Twitter, and Instagram.
About NINOX:
NINOX is a designer menswear label based in Boulder, Colorado.  Allie Thielens and Greg and Linda Casals founded NINOX in 2014 to create sophisticated apparel using the finest materials and production. The vibrant energy of the city, the free spirit of the West, and the connection between the outdoors & everyday life are sources of inspiration for NINOX. For more information visit: www.ninox.cc or email info@ninox.cc
 
About Schoeller® Textil AG:
Schoeller® Textil AG was founded in1867.  Based in Sevelen, Switzerland, the internationally operating company is privately owned and operated and specializes in the development and manufacturing of innovative fabrics and smart textile technologies. Schoeller® is a global leader in technical textiles and finishings.  For more information please visit: www.schoeller-textiles.com or email shannon@schoellerusa.com
 
---
Categories: Fashion and Apparel, Fashion and Apparel Industry, Sports
Tags: boulder, Chinos, menswear, outdoors, pants, schoeller
---