Majah Hype and Rising Stars Bring Out the Grown & Sexy to Milk River Lounge
Press Release
-
Sep 2, 2015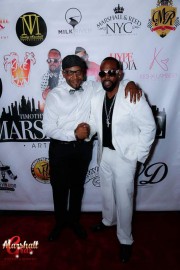 Brooklyn, September 2, 2015 (Newswire.com) - It was quite an eventful night for Marshall Gras Entertainment and Timothy Marshall Enterprises as they presented the successful Marshall Hype Music Showcase at Milk River Lounge, hosted by international all-star Majah Hype.  The sold out crowd were there to enjoy  the great food, the awesome give-a-ways and  the talented performers.  Per usual Marshall Gras Entertainment's "Brooklyn Bridge" band accompanied the performing artists making the experience that much more live and  intimate.  
Hailing from New York City, the sweet yet sultry J Me'lon opened her set with her version of Chaka Khan's  & Rufus "Sweet Thing".  Guest Tyler Jones said "It's always refreshing when young women pay homage to the legends". J Me'lon also performed her original single "Flatline". The youngest performer of the night, Tyrik Ballard  introduced three original tracks including his  hit "Crash",  while putting a special spin on crowd favorite , "Back At One" (Brian McKnight).  Performers Greginald Spencer and Wayne Bud Ramsey engaged in separate impromptu performances with host Majah Hype, involving the crowd and making it an even greater night.
There were many surprises revealed throughout the night, such as, sponsor Kevin Kidd Master Barber announcing the raffle of a free haircut for someone in hospice," to  Marshall Gras Entertainment and BET Apollo Live winner J'Maine Jones announcing the "Girl's Night Out" event for the benefit of Ovarian Cancer research and a cure.  The biggest surprise of the night came when Majah Hype announced his new movie "Foreign Minds Think Alike"!
With Marshall Gras Entertainment and Timothy Marshall Enterprises' reputation of attracting an international audience, it was no surprise the event ended with the crowd and host Majah Hype showing appreciation for the influential Caribbean culture in New York City.  It was the perfect pre-celebration before the world famous Labor Day celebration, the West Indian Day Parade.
Marshall Gras Entertainment and Timothy Marshall Enterprises would like to thank the Marshall Hype Music Showcase sponsors: Wayne Dante Collection, Kesha Lambert Photography, Spiceklyn, Maintenance Maniacs Apparel, Kevin Kidd Master Barber, and Always Pro Barbers.
Media Contact: Christina Hammond I'MPOSSIBLE L.L.C. | Christina@impossiblellc.com
Share:
---
Categories: Music, Performing Arts, Arts and Entertainment
Tags: Entertainment, Music Showcase, NYC, RnB, Talent
---