Introducing MassExact: The First Highly Accurate, Real Time Specific Gravity Gauge
While other pieces of technology have attempted to achieve accurate readings, the MassExact is the first real-time, highly accurate specific gravity gauge on the market.
Press Release
-
updated: Aug 5, 2015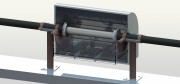 Orlando, Florida, August 5, 2015 (Newswire.com) - A  ground breaking piece of industrial technology is capable of changing the way the world measures density.
MPV Tech's MassExact is the first of its kind. An accurate measurement of slurry density (specific gravity) in real-time has been a necessity in industries for decades. The Florida based company, MPV Tech, believes they have found the solution- a piece of equipment called the MassExact. While other pieces of technology have attempted to achieve accurate readings, the MassExact is the first real-time, high precision specific gravity gauge on the market. Because of its accuracy, the gauge has the potential to save companies thousands (in some cases, millions) annually. Meter ambiguity is a huge issue for companies looking to save on product or labor expenses. 
The in-line, continuous gauge, MassExact, calculates specific gravity by measuring direct mass over a known volume within a hose. By directly calculating specific gravity rather than inferring or estimating, this technology improves the accuracy, value for money, and environmental viability of sensor and mass flow systems.
Other types of meters can provide similar measurements; however there are limitations. For example, microwave meters are not able to withstand abrasive slurries. Ultrasonic meters are not as accurate. Even the nuclear meter (which has become an industry standard in mining operations) comes with limitations. The MassExact is not only more accurate (leading to huge cost savings for companies), but is easier to use since it does not require licensed and trained staff on site.
MassExact boasts many impressive specs. It has a simple installation process. It is accurate up to 99.5%. It also is low maintenance, featuring single button calibration. It compensates for vibration, pressure, and temperature- leading to truly accurate readings. Continuous readings of the slurry occur with a 50 millisecond data response time, giving a truly representative sample of production volume and efficiency data. Remote monitoring is also an option.
Each unit is custom designed and manufactured and is distributed throughout the globe. This bespoke solution has applications in many industries, including Waste Water Treatment, Mining, Dredging, Pulp and Paper, and Oil. 
MassExact White Paper | MassExact Spec Sheet
MPV Tech is managed by business professionals, working closely with renowned engineers and scientists with decades of expertise. This dynamic combination has enabled MPV to develop, patent, and manufacture a technically advanced, user and environmentally friendly density measurement system- breaking the molds of historical methodology.
To learn more, visit www.directdensity.com.
For further information contact:
Keeley Byrnes | Marketing Director MPV  
(407) 337-0110 | sales@directdensity.com 
Share:
---
Categories: Heavy Machinery, Mining, Production and Manufacturing
Tags: accurate, density, dredging, gauge, in line, meter, mining, specific gravity, waste water treatment
---