Iconic Key West Florida Restaurant Announces New Chef
One of the most popular restaurants on Key West announces the exciting news of a visionary new leader to help take their business to the next level.
Press Release
-
updated: Aug 11, 2014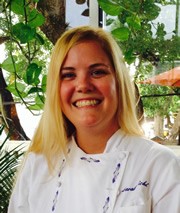 Key West, FL, August 11, 2014 (Newswire.com) - After months of speculation, the owners of one of the most famous restaurants in Key West, Florida have made their decision. After considering many different people, some with internationally known reputations, Norman and Wednesday Vogel are excited to announce the hiring of Sarah Nichol as the new executive chef at the Roof Top Café.
"I can't explain just how thrilled I was when I got the call letting me know I was the one," Ms. Nichol said recently while attending the press conference announcing her hiring. "I think it took a full day for it to sink in that I would be the head chef at one of my favorite Key West restaurants. Of course, when it finally happened, I suddenly realized how much I had to do to get ready for this fantastic honor."
Having been a landmark on the Key West restaurant scene for over thirty years, the Roof Top Café is known for its exciting new island cuisine, its stunning outdoor dining deck and being one of the most popular choices for wedding receptions and rehearsal dinners when people are celebrating island weddings. With all of that reputation to uphold, Ms. Nichol certainly has big shoes to fill, but this graduate of the Pennsylvania Institute of Culinary Arts is more than ready for the job. Her experience includes working for several years for the nationally recognized Margaritaville chain of restaurants before moving to Key West, Florida several years ago. While on the island, she has opened several new restaurants and was the head chef for one of the most highly regarded chain of independent hotels and restaurants. When this opportunity came along, however, she knew she had to take a chance.
"Just like thousands of other people who come down here for island vacations, I first stumbled in here as a sun-burnt tourist and didn't realize that there were such great restaurants on the island. From that moment, I knew if I ever chose to live her that it would be my dream to run such an amazing kitchen." At that, she could no longer contain her smile, adding, "I guess your dreams really can come true!"
For more information on the Roof Top Café, please visit their website: http://www.rooftopcafekeywest.com/
Jack Terry is a travel and lifestyle writer who lived in Key West for several years.
---
Tags: island vacations, island weddings, Key West restaurants
---