Has Law School Become a Waste of Time?
Author Argues for the Law School Program in "Hedging Law School"
Press Release
-
Feb 3, 2015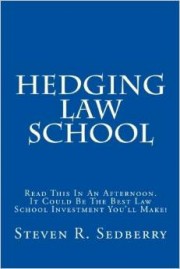 Nashville, Tennessee, February 3, 2015 (Newswire.com) - Are the halcyon days of law school and legal careers a thing of the past? Is it worth spending three years of a student's life in this postgraduate program, only to risk huge debt and limited employment opportunities?  With law firms imploding and high unemployment rates among law graduates, should prelaw students look elsewhere for career satisfaction?   
In his new book, Hedging Law School (CreateSpace, 2015), author Steven Sedberry argues that  law school is still worth the investment, but cautions students to investigate carefully before taking the plunge. 
 "Rumors of the death of law schools and legal careers are greatly exaggerated," says Sedberry. "There are still good jobs out there in law.  Law school is a unique educational experience.  It's one of the few degrees that truly teaches students to think analytically.  Law graduates can certainly practice law.  The training also gives them an advantage in many other employment situations."  
  At the same time, Sedberry cautions students to carefully balance their career goals against their law school choice.  He argues that rankings are only one criterion in the law school investment decision.   
 "If you want to become a lawyer, then become one.  But you can overpay for your legal education if you aren't careful," Sedberry argues. "Top-ranked schools carry top tuitions.  Depending upon your career plans, you may not need a pedigree.  Instead, you may simply need the skills and tools that you will learn at any accredited law school.   Your 'Local U' may be more than sufficient to meet your career needs." 
Sedberry knows what he is talking about.  After a twenty year career in corporate America, Sedberry decided to fulfill a lifelong dream of going to law school. It was a personal decision, but also a significant investment decision.  In Hedging Law School, Sedberry evaluates the law school decision faced by students from both perspectives.  
 "If a law student graduates with huge debt, they have no choice but to take a job that may guarantee unhappiness," says Sedberry. "In the past, students have mistakenly believed that this is the only path.  There are other equally good paths to a rewarding legal career."   
Steven Sedberry is a practicing attorney, author, blogger and speaker. He is the author of Hedging Law School and Law School Labyrinth- The Guide to Making the Most of Your Legal Education (2nd Ed., Kaplan Publishing, May 3, 2011).  Sedberry is the vice president and general counsel of an international apparel business, has a BBA from the University of Texas at Austin, and a law degree from Vanderbilt University Law School.  
---
Categories: Colleges and Universities
Tags: college, graduate school, law school, lawyers, legal career, lsat, prelaw, university
---