FBI Clears Azzam Elder In Wayne County Investigation
The FBI clears Azzam Elder in Wayne County Investigation after a three and a half year investigation. The federal government gives Azzam Elder a "Clearance Letter", absolving him of any wrong doing. This "Clearance Letter" given to Azzam Elder by the federal government is very rare, but justified.
Press Release
-
Feb 9, 2015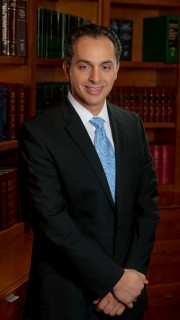 Michigan, February 9, 2015 (Newswire.com) - Wayne County probe comes to a close today after a lengthy three and a half year investigation.  The announcement came from Barbara McQuade, who is the U.S. Attorney for the Eastern District of Michigan.  In a rare move, the federal government gave Azzam Elder the former Deputy Wayne County Executive, a very strong "Clearance Letter", absolving him of any wrong doing.  In today's world of Google, during a long investigation, and in very unique circumstances where high profile individuals inadvertently suffer from bad media reporting, it is very difficult for "innocent people" to recover their reputations. The federal authorities today decided to use their authority in a modest attempt to "right the wrong."
Prominent attorney Gerald Evelyn said: "I can confirm three things today. One, in over 30 years of practicing law in the Federal System, this "clearance letter" given to Azzam Elde by the federal government is very rare, but justified.  Second, after leaving no stone unturned, this "Clearance Letter" proves that federal investigators feel confident that Azzam Elder had done nothing wrong or inappropriate. And, third, this "letter" is a strong indicator that they recognize the unfair impact the investigation has had on him on a personal and professional level. 
"For Azzam, this wasn't about his job, it was about his character", said Judge Margie Braxton who has known Azzam for over 15 years, going back to the days when he was her courtroom prosecutor.  "He was one of the most outstanding courtroom prosecutor's I've ever had in my courtroom and he was a highly respected chief prosecutor for Wayne County.  Azzam to this day has lasting respect and admiration from Judges, defense attorneys, and prosecutors.  He is a man with high integrity."
In a brief comment, Azzam Elder said; "Today's announcement comes as no surprise, but I am grateful to finally close this chapter.  I was fully transparent during this investigation and today's comments by U.S. Attorney McQuade, thanking and commending certain officials, recognizes my transparency. As a former prosecutor, and advocate against public corruption, I am glad the FBI thoroughly investigated, and I am very grateful they have gone the extra step to formerly clear my name leaving no doubt.  The damage inflicted on my family and my reputation throughout this ordeal has been immeasurable.  I can only hope that after 16 years as a public servant with an unblemished record, that we all learn something from this. The lesson learned and remembered should be that a rush to judgment based on rumors and innuendo can be irreversible to one's reputation. I want to thank my family, and friends, who remained steadfast by my side throughout this process."
Monica Brinkman, who has known Azzam for many years, said that "Azzam knew it was inevitable for it to end in a positive way. He respects the process and believes in the justice system." 
Cameron Priebe (former Mayor of Taylor), who has known Elder for more than 10 years and has talked to him frequently over the past three and a half years said, "He knew he'd be cleared because obviously he knows he's innocent. The untold story should be how Wayne County fell apart after he left his job as Deputy.  Elder had a promising career, everyone knew it. God knows how hard he works, and how effective he was at getting things done.  The taxpayers will never know how costly it was after he was pushed out.  Those who know Azzam and worked with him agree that he is a person with high integrity, extremely intelligent, and cares about people. I am happy this is finally behind him."
Azzam Elder is currently in private practice as an attorney, and as CEO of Halo-Bloom, a business consulting firm in Dearborn, Michigan.
Share:
---
Categories: State or Provincial Government, Government, Law
Tags: Azzam Elder, Azzam Elder Clearance Letter, Azzam Elder Wayne County Investi, CEO of Halo-Bloom, FBI Clears Azzam Elder, Wayne County, Wayne County Investigation
---