ethiXbase Announces the Asia Pacific Professional Certificate in Ethics and Anti-Corruption Compliance
In partnership with CFA Institute, KPMG and Duane Morris & Selvam LLP, ethiXbase, a leading provider of anti-corruption compliance intelligence and solutions, today announced that it is launching a series of regional professional certification training courses for the Asia-Pacific region.
Press Release
-
Oct 7, 2015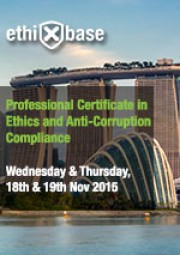 Singapore, Singapore, October 7, 2015 (Newswire.com) - The inaugural two-day course, to be held on the 18th and 19th of November in Singapore, will be led by expert practitioners Tony Tan from the CFA Institute, Owen Hawkes from KPMG and Samuel Sharpe from Duane Morris & Selvam LLP. It is designed to help professionals develop a greater understanding of how to build a robust compliance and ethics framework by exploring the relationship between ethical conduct and business practice through a series of practical tutorial sessions and real world case studies.
Tony Tan, Head of Standards & Advocacy at CFA Institute commented: "We often hear that ethics is important in organisations. But to practice consistent ethical behaviour is hard."
Samuel Sharpe, Director at Duane Morris & Selvam LLP, added: "One of the recent trends is a failure to educate employees and managers about real bribery risks, particularly in this region."
 "Regulatory expectations are that senior management will commit to oversight and monitoring of corporate conduct and react decisively and appropriately to incidents.  Management knows that to fail in this respect is to leave their organisation exposed to potentially serious consequences" said Owen Hawkes, partner at KPMG.
"This signals a real and pressing need for practical guidance when it comes to issues surrounding anti-corruption compliance and ethics. For this reason, we are delighted to deliver what we hope will be the first of many innovative courses in collaboration with our trusted partners" said Leas Bachatene, CEO, ethiXbase.
Recognising the need for such a programme, the Singapore Corporate Counsel Association (SCCA) is also endorsing the course and extending reduced rates for members to register.
The professional certification programme is open to all professionals who are keen to enhance their knowledge on business ethics and anti-corruption compliance. Participants are encouraged to register by 6th November at www.ethiXbase.com/training to secure their place as spaces are limited.
For more information please visit: www.ethiXbase.com/training  
Share:
---
Categories: Commercial Law, Announcement, Business
Tags: anti-bribery, anti-corruption, asia, certification, compliance, FCPA, singapore, training
---