Designing Alluring Brochures at 55Printing.com with New Templates
55printing.com has recently announced the redesigning of brochures with the help of new design online templates.
Press Release
-
Jun 29, 2015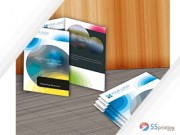 Los Angeles, CA, June 29, 2015 (Newswire.com) -  55printing.com has recently announced the redesigning of brochures with the help of new design online templates. These types of templates are available at affordable rates. However, with the new style and designs, you can get some of the attractive offers. 55printing.com has declared some of the quick flyer's best offers for their potential customers and clients. The steps of placing the order are also very simple and convenient.
Get some of the Latest Design Templates Online
The online printing store has currently announced the price of the brochure printing. These have been reduced than before. Even cheap brochure printing is also available at 55printing.com. However, with the help of the latest design templates you can structure your brochures in a more innovative way which can attract more customers.  Redesigning of the brochures is very necessary in order to make the brochures as a famous mode of advertising. Additionally, as the ordering is convenient for the customers, you can place an order for brochures from 55printing.com.
55printing.com has been very popular for printing cards for several years. The online printing service provider will allow you with some online design templates which can be applied to your brochures. You can easily choose the right quantity, color and size of the brochures which requires to be printed.  Moreover, the online stores will allow you to print attractive brochures for online advertising.
 Making Pleasing Brochures with New Design Templates
At 55printing.com, you can make alluring and pleasing brochures with the help of new design templates online. 55printing.com will not charge you more. Printing at 55printing.com can allow you to save a lot of money. With cheap brochure printing, 55printing.com can provide you with the right printing solution.
When you have already designed your brochure, you can first pass it your friends and family. This will help to get some valuable feedback of your brochures. This will help you in future marketing. Receiving the feedback is very important to understand the demographics and style of making brochures.
Among the wide array of colors, you have to choose the correct one which suits your company. You can go for the sectioned off theme which will allow the reader to digest hat you want to convey. With 55printing.com, you can easily organize and expand your process of thinking. 
Share:
---
Categories: Publishing and Printing, Printing, Computer Aided Design and Manufacturing (CAD/CAM)
Tags: 55printing, brochure, brochure printing, likeprints, printing, vinyl banner
---