Christopher Anton: The Jesus Freak of Modern Synth Pop Music
Synth pop musician christopher ANTON is on a mission to spread the love of God, and the gospel of Jesus Christ via electronic music.
Press Release
-
Apr 10, 2015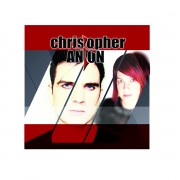 Spring, Texas, April 10, 2015 (Newswire.com) - Christopher Anton (commonly stylized as "christopher ANTON") has been on the Mirror Piece Record label  since 2008. The independent synthpop artist has seen a myriad of success spanning many years as a singer and songwriter, including several years as the singer of the popular dance pop band Information Society.  In recent years Anton has pushed through commonplace stereotypes of the genre and has turned the focus of the christopher ANTON music act to "the love and hope of God".
Anton who performs with his wife and band-mate Donna Jean refers to their music as "synth pop to build bridges"
"Donna and I are simply Christ followers" explains Anton.  "We don't consider ourselves to be religious, but we do know that our purpose is to proclaim the truth of salvation through Christ."  "Our mission is to help people overcome despair, to bring hope to those who have lost sight of the truth, that love overcomes everything."
christopher ANTON is in a unique position with songs which are seemingly Christian in content  yet appeal to  secular audiences.  The testimony that Anton espouses is one of miraculous recovery from alcoholism in 1995.  "God spoke to me" Anton describes, "In spite of my chronic condition, and my drunken, hopeless state God took that curse away from me and  turned my life around, it was the epitome of God's mercy and love".  "Prior to that occurrence I was an atheist, but that didn't matter to God. He was there waiting for me to ask for help...Donna Jean has similar experience with complete recovery from disabling disease."
Anton and crew are currently active in a campaign to raise funds for their music ministry.  The active fund raiser at indiegogo.com is a goal to raise funds for a new album, and tour transportation.  The intent is to crowdfund the full length christopher ANTON CD called "Connected", and subsequently tour the USA in ministry outreach this summer. The crowdfunder is live now at christopheranton.us
For further inquiries about christopher ANTON please contact the christopher ANTON team at christopheranton7@gmail.com
Share:
---
Tags: christian, christian music, crowdfunder, electronic music, faith, fund raising, Jesus, ministry, outreach
---