Brittany Ferries Goes Live With RTS CargoProfitOpt Solution
Brittany Ferries Freight division has gone live with the second phase of the RTS CargoProfitOpt, as the solution to meet its freight revenue management requirements.
Press Release
-
Sep 21, 2015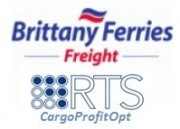 Plano, TX, September 21, 2015 (Newswire.com) - Revenue Technology Services corp (RTS Corp) is pleased to announce that Brittany Ferries Freight division has gone live with the second phase of the RTS CargoProfitOpt as the solution to meet its freight revenue management requirements.  The second phase of the implementation included Demand Forecasting, Bid Price Optimization, Customer Value and Wait List Management modules. The first phase of the solution included capacity management modules and has been live since 3rd quarter of 2014.
This is huge accomplishment as this is the ferry industry's first such solution. With this implementation, RTS adds to its list of several firsts in its long history of 32 years; first passenger revenue management solution developed for Republic Airways, first cargo price optimization solution for Virgin Atlantic Cargo, and now the first revenue management solution for the freight ferry market for Brittany Ferries. This also reiterates the thought leadership shown by both the companies to shake the status quo and make significant improvements to how freight is managed in the industry.
This win strengthens the relationship and long standing partnership between the two companies over the years. Brittany Ferries already uses RTS ProfitOpt, our passenger revenue management solution.
Simon Wagstaff, Group Freight Director, commented "At Brittany Ferries, we have long been convinced of the potential of a reliable system of revenue management for our freight business. RTS has always exhibited thought leadership in data analytics, revenue management, and pricing .Now that we have a functional revenue management system, we are working towards monitoring the system recommendations and see improvement in our revenues. We look forward to continue to work closely with RTS in the long term." Jason Codd, Vice President for Client Services at RTS added, "After a long and fruitful relationship with the passenger team at Brittany Ferries, we are excited to welcome the freight arm into our family. This allows us to work closely with Brittany Ferries on revenue management on ALL traffic, giving a whole ship view."
 Mukundh Parthasarathy, Vice President of Cargo solutions for Revenue Technology Services chimed in, "To have implemented the world's first ferry freight revenue management solution for Brittany Ferries is a huge achievement for RTS and our cargo suite. Adding to this, we are the only company to have an integrated freight revenue management and passenger revenue management solution"
 About RTS
Revenue Technology Services (RTS) offers  IT and business solutions and services that help our customers to increase their margins, improve their customer experience, enhance productivity of their employees, and support their growth. RTS is a  global leader in Revenue Management and Pricing solutions.
RTS caters to Travel Transportation industry including Airline, Cruise Ferry, Rail and Coach verticals with focus on analytics, software solutions, consulting and education services, operations research capabilities, technology services and IT development and support.
RTS is headquartered in Dallas, Texas with offices in London- UK, Cape Town -South Africa and Chandigarh- India.
To know more about RTS please visit www.rtscorp.com or contact rts.information@rtscorp.com or +1-972-573-1600
About Brittany Ferries
Founded in 1972 by proud Breton Alexis Gourvennec and a group of fellow Breton farmers wanting to export their cauliflowers and artichokes to the UK, Brittany Ferries is now the leading maritime carrier on the western and central channel. Gourvennec formed the company, formerly known as Armement Bretagne-Angleterre-Irelande, or B.A.I. for short, which was officially born on a bleak New Year's Day in 1973 with French, British and Breton flags flying and a choir singing carols. With Britain's entry into the Common Market in 1973, Gourvennec saw his chance to end the geographical isolation of Brittany. Realising the quickest route to this new market would be across the western channel to Plymouth, he contacted several large shipping companies to no avail and began setting up his own company by purchasing a freighter, the Kerisnel, named after a small Breton village famous for its cauliflowers - with the Breton farmers who are still the company's main shareholders today.
For additional information, visithttp://www.brittany-ferries.co.uk/, http://www.brittanyferriesfreight.co.uk/
Share:
---
Categories: Business Technology, Transportation, Travel, Personal Travel
Tags: Analytics, Cruise Ferry, revenue management
---