Bergin and Company Adds Style and Strength to World Class Travelers
An Early access in special conditions to a magnificent product of exclusive luxury, quality and convenience
Press Release
-
Mar 16, 2016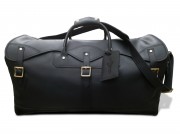 Hoboken, NJ, March 16, 2016 (Newswire.com) - The Bergin Company of Hoboken, New Jersey has begun a fundraising project on Kickstarter to fund the manufacture of a new piece of luggage that is named the Bergin Fine Travel Duffle Bag. If plans go through as hoped, the bag will be introduced to the public in April, 2016 in time for the summer travel season. The bag will be available at select retail stores if the company is able to raise the money needed to get it into production. ­The Bergin Company wants to introduce a bag that is elegant and practical while still affordable.
Traveling in the post-911 era was challenging on the best day. Finding ways to take comfort, strength and style on the road is even more so. That was part of the reason Bergin found for going forward with their new bag; that there is a good bit of demand for fine, leather luggage.
What stood in the way was cost and availability. "There were too many stops from the factory to the consumer," said Ed Blaze of Bergin Company. "We wanted to use the Kickstarter program so that we could get our bags into stores and skip a lot of the middlemen who add costs but little value." Bergin plans to price the bag at $1150.00. Comparable bags command $1,400.00 to $2,500.00.
The Bergin Fine Travel Duffle Bag is made of full grain leather that is as durable as it is appealing. Leather is always in style and delivers a positive statement about the person who owns it. 'People who carry leather goods possess the quality of gravitas that sets them apart from others," Blaze said. 'Traveling with a leather duffle bag like ours makes the owner unique.  You can stand out in a world of mass produced style with the Bergin Fine Travel Duffle Bag."
Backers who pledge $325.00 will receive one Bergin Bag that will retail for $1150.00, plus a special certificate to the donor, as "pioneer backers" will accompany the bag. "As soon as the manufacturing stage goes forward, we will receive the first completed and assembled bags for quality testing, at which point we will be in a position to ship your bag to you," said Blaze. "And, when it comes to shipping, also for your convenience, we have an account with UPS Ground, so make sure you give us the correct mailing address and working email, so that we can email your tracking number once your bag is shipped."
Of course quantities are limited, so reserve one now while they are available.
To participate in the Kickstarter campaign go to: www.bergincompany.com
Share:
---
Categories: Fashion and Apparel, Travel, Business Travel, Home
Tags: Airport Travel Bags, Bergin Bags, Duffle Bags, Leather Bags, Leather Bags for men, Travel Bags
---