Babkes & Associates Now One of Broward's County's Leading Felony Defense Law Teams
South Florida Based Traffic Ticket and Violation Law Firm is Proud to Offer Leading Felony Defense for Broward County
Press Release
-
Oct 27, 2015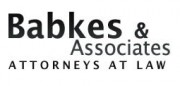 Plantation, FL, October 27, 2015 (Newswire.com) - Babkes and Associates, Criminal and Traffic Law firm based in South Florida, offers a leading law team on felony defense within Broward County.
Babkes & Associates is a Florida Felony Criminal Defense Law Firm, offering aggressive and skillful representation to individuals accused of felony criminal offenses in Broward, Palm Beach and Miami-Dade counties.
Felony allegations can seriously affect one's reputation and ability to maintain or secure future employment. A conviction for a felony offense can have devastating implications and result in the loss of civil rights for an individual. It is crucial that a felony case be handled with extreme care and caution by an experienced felony defense lawyer.
Babkes & Associates has handled numerous felony cases of all levels of complexity in Broward, Palm Beach and Miami-Dade counties. Please call the Florida Felony Defense team at Babkes & Associates to schedule a free consultation as they look forward to assisting.
Babkes & Associates handle cases throughout the entire South Florida area extending from Palm Beach to Dade County, even offering services outside the area by phone as well.
About Babkes & Associates
Babkes & Associates was established in 1978, and is focused on Criminal, Traffic, Misdemeanor and Felony Related Offenses. The law firm's services range from assisting with Suspended Licenses, Traffic Criminal Tickets, Speeding Tickets, D.U.I, Misdemeanor/Felony, Reckless Driving, Accident Cases, and much more. With collectively over 100 years of experience in assisting clients to navigate though the complex legal system, Babkes & Associates Law Firm is fit to assist anyone throughout the South Florida area from: West Palm Beach, Palm Beach, Boynton Beach, Deerfield Beach, Fort Lauderdale, Miami, and surrounding cities. If you are in need of legal assistance regarding Criminal Charges, Traffic Tickets and Traffic Related Offenses, let the Babkes & Associates team be of assistance to you.
For more information, call (954) 452-8630, or request a free consultation online and save 12 percent at http://www.babkeslaw.com/contact.php.
###
Share:
---
Categories: Organized Crime, White Collar Crime, Commercial Law, Law
Tags: Babkes & Associates, Criminal Records, Felony Offenses, Legal Rights, South Florida Attorney, South Florida Criminal Defense, South Florida Criminal Defense A, South Florida Felony Defense, South Florida Traffic Attorney
---