Apps for a Smarter Summer: Special Campaign by ColorsKit
A series of multipurpose learning apps are being made available for free to keep children from skipping a beat during their summer vacation.
Press Release
-
May 19, 2015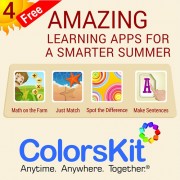 Somerset, NJ, May 19, 2015 (Newswire.com) - ​​The onset of summer vacation is accompanied by an exciting offer for young learners. WebTeam Corporation has slashed the prices of four of its premier mobile apps to zero. Advertised as "Apps for a Smarter Summer", the offer lasts through June 1.
The skill-building apps that are part of this summertime promotion are:
1. Math on the Farm – teaches simple mathematics through images and graphics set in the backdrop of a farm
2. Just Match – coaches children on how to drag and match the outline of a figure with the actual figure
3. Spot the Difference – by carefully examining two almost identical pictures, the user needs to find out the dissimilarities between them
4. Make Sentences – lets people of different ages and skill sets master the art of making sentences
"The content in each of these apps is developed on the basis of recommendations made by the best minds in child development. We have over 500,000 learners from all over the world playing on average 5,000 sessions a day," said Nish Parikh, founder of ColorsKit and CEO of WebTeam Corporation.
Summer vacation is full of fun and excitement outdoors.  However, when it's time to wind down and get ready for bed or if it's raining, these apps will make a positive impact on a child's learning experience this summer.
"Now there are plenty of truly productive and knowledge development activities to keep our children engaged on their tablet for hours," Mr. Parikh added, stating that WebTeam and ColorsKit Care Team have listened to user feedback and are adding more features and content daily. He also stated, "We are in process of enhancing our apps. Soon our users will be able to add their own content to a new version of Make Sentences."
About ColorsKit
ColorsKit offers a variety of educational apps compatible with iOS and Android devices. These apps allow parents, teachers, therapists and other caregivers to take care of their loved one's learning and development through an extended period of time. The data-tracking functionality integrated with audio and video technologies can help parents and teachers communicate crucial information back and forth between homes and classrooms. Parents can teach the same lesson plans that the child learns in the classroom. The technology that is at the heart of ColorsKit helps regular as well as differently-abled individuals develop increased attention span.
For schools, ColorsKit is helpful in addressing the challenge of high demand of special needs services. ColorsKit apps are in use in some of the top special schools and districts in the country, including Chicago Public Schools, Marshall University, Lake Washington School District, Mill Valley School District, Revere Public Schools, East Lansing Public Schools, Monroe #1 BOCES, Sandusky City Schools, Richland-Bean Blossom Community School Corporation, Pocahontas Area Community Schools, Boone County Schools, Putnam City Schools.
About WebTeam Corporation
Winner of the half-a-million dollars Verizon Powerful Answers Award, WebTeam Corporation is leading the way technology, education and health care industries work towards improving people's lives. WebTeam has developed The Spectrum Careers, ColorsKit, EARLYThree, Jannya and Hekxo.
For more information about ColorsKit and WebTeam, please send an email to sayantan@webteamcorp.com or call (908) 704 8843 x344.
Share:
---
Categories: Advertising, Home Schooling
Tags: Education, Learning, Mobile apps, Offer, Summer activities for children, Summer vacation
---