AIM Exploration Receives Letter of Intent From Prina Energy to Purchase 500,000 Metric Tons of Coal From AIM's Coal Mine Located in Peru
Press Release
-
updated: Aug 18, 2015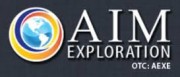 Henderson, Nevada, August 18, 2015 (Newswire.com) - AIM Exploration, Inc. ("AIM" or the "Company") (OTCQB:AEXE) is pleased to announce that it has received a Letter of Intent from Prina​ Energy Private Limited, complete with a bank capability letter, to purchase 500,000 Metric Tons of AIM's anthracite coal annually. The Letter of Intent is for a five year period and the product will be delivered to the port of Salaverry in Peru.
Prina Energy is a substantial coal trader with mines that they own or finance in Indonesia, Canada, South Africa and Colombia. They act as both a producer and buyer and supply coal to markets and consumers all across India. "This represents a significant turning point in terms of revenue and profitability for our company," stated Robert Todhunter, CEO of Aim Exploration, Inc., "This gives our company a strong buyer for our coal and can be used to develop and build a tremendous mining and logistics operation in Peru."
Under the current LOI, Prina Energy would take delivery of the coal at the port located in Salaverry, Peru. AIM will deliver 35,000 Metric Tons of coal per month from their three mining concessions located in Lima, Peru. This coal would then be exported by the buyer to India. The sales price is expected to be robust, and management believes the coal sales discussed in the LOI will help establish the long term viability and stability of the mining and logistical operations in Peru.
About AIM Exploration, Inc.
AIM Exploration Inc. (OTCQB: AEXE) operates as a junior mining company focused on global mining, exploration and production. Further Information on our projects can be found at www.aimexploration.com and followed at https://twitter.com/aimexploration AIM Exploration Inc. (OTC: AEXE) is a Nevada headquartered company with an operational office in Manila City, Philippines and Lima Peru. AIM operates as a junior mining company focusing on global mining, exploration and production. The company currently has two existing projects, a 40% interest in a Feldspar mine and production plant located in the Philippines and 100% ownership of an Anthracite coal project located in Peru. The Feldspar mine is currently producing and is currently undergoing upgrades for expanded production. The operation is controlled by Paladino Mining and Development Corp. The Anthracite Coal project, AIM owns and controls through its wholly owned subsidiary Aim Exploration SA. It is considered to be high grade Anthracite Coal mining properties in the Alto Chicama basin, in the province of Otuzco in Peru.
Forward-Looking Statements
Certain information set forth in this press release contains "forward-looking statements" and "forward-looking information" under applicable securities laws. Except for statements of historical fact, certain information contained herein constitutes forward-looking statements, which include management's assessment of future plans and operations and are based on current internal expectations, estimates, projections, assumptions and beliefs, which may prove to be incorrect. Some of the forward-looking statements may be identified by words such as "estimates", "expects" "anticipates", "believes", "projects", "plans", "targets" and similar expressions. These statements are not guarantees of future performance and undue reliance should not be placed on them. Such forward-looking statements necessarily involve known and unknown risks and uncertainties, which may cause AIM's actual performance and financial results in future periods to differ materially from any projections of future performance or results expressed or implied by such forward-looking statements.
AIM Exploration Inc.
J.R. (Bob) Todhunter, Director, President & CEO
www.aimexploration.com info@aimexploration.com https://twitter.com/aimexploration
Bus: 1 (844) 246-7378
SOURCE: AIM Exploration Inc.
Share:
---
Tags: Anthracite coal, Feldspar, mining
---