Affordable Inks for Epson L-series Printers Are Now Available in Poland
Reasonable substitution for pricey brand inks was recently brought to the market. Alternative inks were introduced by INKSYSTEM, trading and manufacturing company, specializing in consumables for inkjets. Alternative inks for L-series printing device
Press Release
-
Jan 14, 2015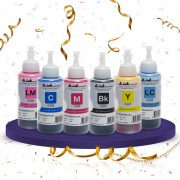 Poland, January 14, 2015 (Newswire.com) - INKSYSTEM, a leading international producer of alternative consumables for inkjet printers, has recently introduced reasonable ink substitute for L-series printing devices by Epson. This can be regarded as a significant shift in the whole industry of production of alternative exposable materials due to the fact that it is a brand-new product on the Polish market. Till now Epson printers and multifunctional devices of the L-series, which stand out among other printing devices because of genuine Ink Tank System, were available for users with pricey Epson inks only. But the things changed as INKSYSTEM company provided affordable alternative inks for the market.
The new product has a number of advantages with the price coming to the fore. Alternative inks are supplied in capacious bottles and sold at affordable prices. These enables users not to overpay for brand-name and logo of the well-known manufacturer while preserving print quality. Photographic ink by INKSYSTEM has chemical composition that is close to the genuine ink, therefore users will always get durable and high-quality printouts with true-to-life color rendition. As for composition, it is a dye-based type of ink. This means that colorant is fully dissolved in liquid, providing smooth gradation while printing. As inks don't have solid particles, they prevent a printing device from a frequently occurred problem - clogging of print head nozzles. Protographic inks for L-series by INKSYSTEM were developed to be 100% compatible, therefore they are safe and affordable alternative for printing of high quality.
Though the company has recently appeared at the Polish market, it has 8 years of experience in developing and production of steady solutions for inkjet printers. To meet high demands set by users, R&D specialists of the company have been testing different ink formulas to assure top-quality results while using the product. Aiming to create the best alternative to genuine ink, researches eliminated possible disadvantages and put the formula to the several-stages testing to get convinced the inks are fully compatible with the printing devices of the series. Therefore, user can be sure in quality, safety and compatibility of the product.
Protographic inks by INKSYSTEM designed especially for Epson L-series printers are now available for purchase on the official online store of the company. The inks, as well as other consumables for inkjet printing, are delivered within Poland and to neighboring countries.
For more information about Inksystem or purchase printers, inks and cartridges, please visit InkSystem.Pl or call +48 22 490 69 88
Share:
---
Categories: e-Commerce, Publishing and Printing, Printing, Computer
Tags: epson l, inksystem, photographic ink
---