Adaptive Design Made for Special Buyer at Vista Sereno Estates
At Vista Sereno Estates, an enclave of eight homes in Lemon Grove, KirE met a unique buyer with very personal needs. Mike
Press Release
-
Oct 16, 2014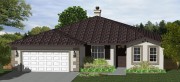 Poway, CA, October 16, 2014 (Newswire.com) - In this day of depersonalized service, it's refreshing to find that personal service and customer satisfaction remain paramount to the KirE Builders team.
At Vista Sereno Estates, an enclave of eight homes in Lemon Grove, KirE met a unique buyer with very personal needs. Mike Hicks sought a new home to accommodate his extended family, including his adult, special-needs son and granddaughter while affording his son independence, privacy and proximity of immediate care, should the need arise.
Hicks' son and granddaughter returned home after the onset of a debilitating, adult-onset illness which left him homebound in the living room of Hicks' current home.
"The entire KirE home-buying experience went above and beyond my expectations, especially under these circumstances,"
The Plan 3 multi-generational floor plan provided a solution, yet still required additional revisions. Hicks' son required American with Disabilities Act (ADA) modifications, including home accessibility, wider hallways, exterior and interior doorways, reinforced bathroom handrails and grab-bars, as well as the locations of outlets and climate controls, counters and sink heights.
Josh Santa, president of KirE Builders, said, "KirE takes the time to meet the wants and needs of our clients."
Hicks expects to close escrow this month and move in before the holidays.
Multi-generational living options — guest suites or "casitas" — are not unique among floor plans offered in San Diego County; however Vista Sereno is an infill site of only eight special homes.
KirE incorporated the ADA revisions into Hicks' home while providing exceptional care and service. Hicks praises sales agent Janean Johnson of Brink Realty, commenting, "She was a jewel." Johnson suggested the ADA modifications to Hicks, then worked with the construction team to build this special home.
Hicks invested time to locate his new home. "I researched new home communities to find a home that suited the needs of my family," he said.
He looked online, visited and inspected other homes, then went to the KirE-built, Vista Sereno Estates site barely under construction.
"I wanted the KirE home in the Vista Sereno neighborhood, which had the layout that worked for my family," said Hicks, adding that he was determined that the home's quality and floor plan were paramount for his new home.
"The entire KirE home-buying experience went above and beyond my expectations, especially under these circumstances," he said.
The KirE Builders Inc. Vista Sereno Estates sales center is located at 7128 San Miguel Ave. in Lemon Grove. Call Janean Johnson at 877-612-7465, ext. 91, to schedule an appointment.
For more information, visitvistaserenoestates.com.
---
Categories: Real Estate, Construction, Home
Tags: Green Living, Inc, KirE Builders, Lemon Grove, New Construction, New Homes, San Diego, Single family home, Vista Sereno Estates
---